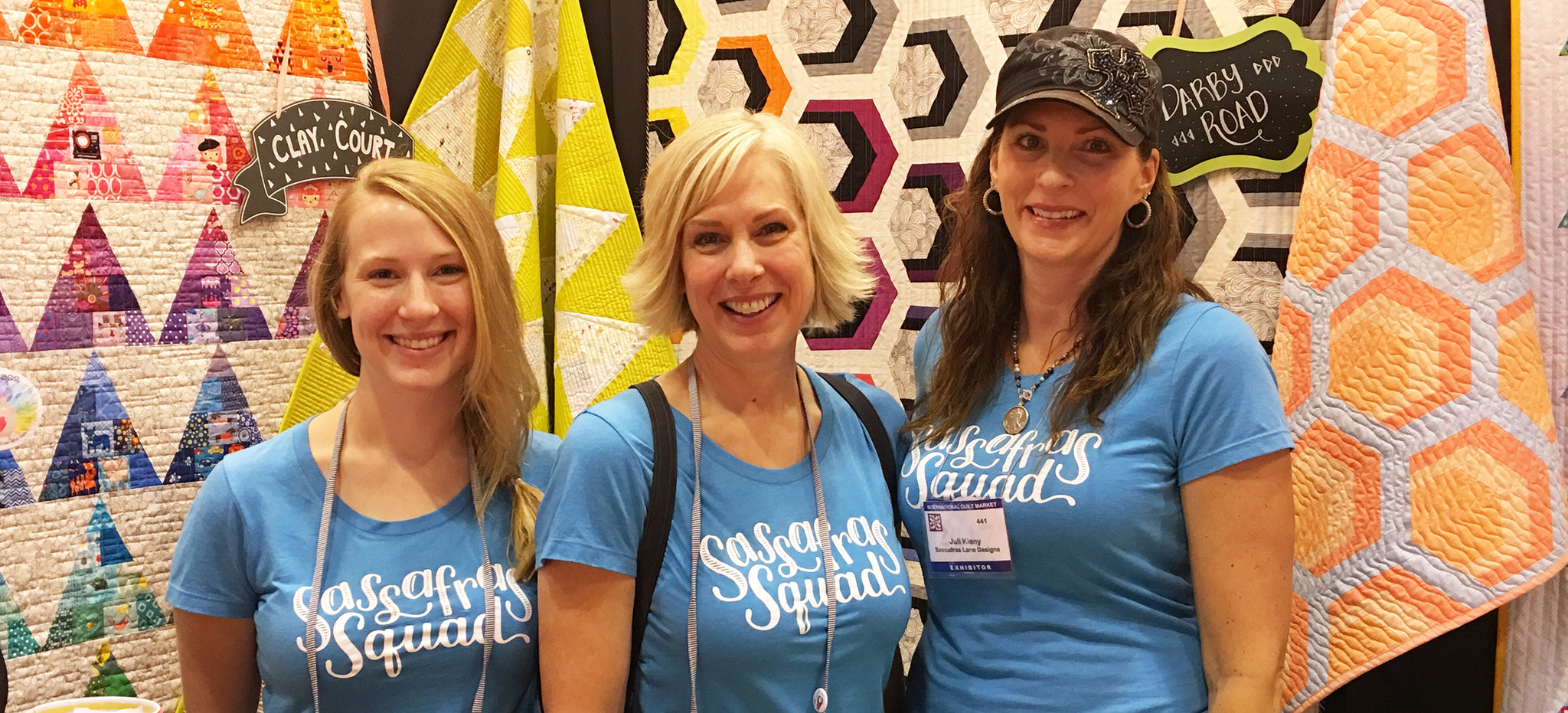 Quilt Market Spring 2017 in Saint Louis - Part 1
It has been a few weeks since we returned from Quilt Market and I have finally gone through all the photos. This first post is all Sass - our booth, projects, schoolhouse, sample spree and sneak peek! Later this week there will be a post all about the amazing booths, projects and people we saw around Market!
Let's jump right in! The first event of Quilt Market was setting up or Sneak Peek cubby. This was our first year participating, so we were flying by the seat of our pants! We made a low volume Darby Road quilt with pops of Wasabi solid and used magnets to cover the back and bottom of our area. On top of the quilt, we placed one of our Elsie Avenue pillows and a small sign with our booth number on it. 
Next up is Schoolhouse! This is when we get up and present our newest stuff before Market begins. This year, we teamed up with Dear Stella to show how their new Chroma basics by Rae Ritchie work with our patterns. We made a Bugsy Backpack, Darby Road, Elsie Avenue pillow, Focus Freeway, Prism Parkway and Hootsville Row to present. At the end of the presentation, we gave away a few pattern packs, hardware kits, fabric bundles and measuring tapes in our "Sew with Sass" bags. Here are a few snaps taken during the presentation!
This night before the first day of Quilt Market is Sample Spree. It is 2 hours of shopping before the big event. Fabric booths are sought after - people literally stampede in and head right to the big tables of fat-quarter bundles. After that, they meander up and down the tables and pick up little project samples, patterns and notions. We were selling a sampler pack of our newest stuff!
Here is a photo and quick video of our booth. We opted for a simple booth this year. We drove from Colorado to Kansas City to Saint Louis and didn't rent a car, so there were no crazy couches and such. But, we love how it turned out! 
Starting on the left and working our way around, we have 2 Focus Freeway camera quilts, multiple Bugsy Backpacks, three Clay Court quilts, two Darby Road quilts, two Alligator Alley quilts and one Elsie Avenue quilt and one pillow.
This was our Sassafras Squad this year - we even had shirts to prove it! Left to right: Shayla Wolf, Kristy Wolf and Juli Kieny. 
We had a little fun this Market. We handed out some Sassy Elsie Avenue hedgehog stickers, danced a little to keep warm and met some of our amazing customers! Be sure to pop back by for some pictures of other booths.