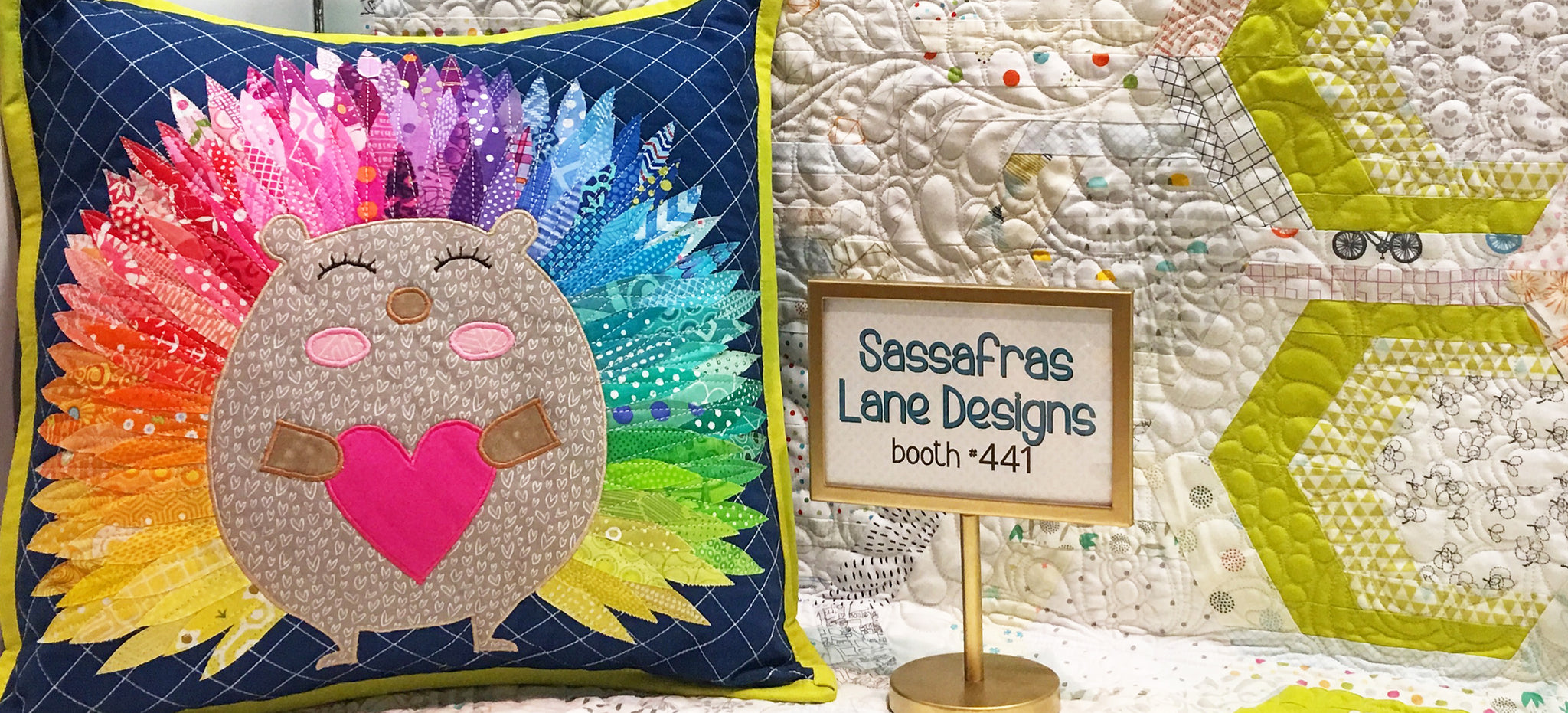 Quilt Market Spring 2017 in Saint Louis - Part 2
Brace yourselves! There is a whole lot of pretty coming up =] ! We didn't get a chance to see the entire show, but what we did see of Quilt Market blew us away. Here is some of the prettiness we snapped photos of in alphabetical order! 
These two projects made up in Alison Glass's Handcrafted fabric line are gorgeous! I love feathers, so this large appliqué feather, in rainbow nonetheless, gave me serious heart-eyes. And the micro-stippling in that pillow is absolutely bananas!
Amy Butler's booth is always a favorite of mine and this year was no different. All the details from the sewing machine to the fabric covered lanterns and the large cardboard cutout were amazing.
Annie Brady is a new designer with Moda and I fell head-over-heals for her debut line. I mean, just look at how adorable those bears are! I am thinking I need a summer tank top made out of bears, what do you think?
Left: I spy two different Sass quilts in the Anthology Fabrics booth! A Darby Road and an Alligator Alley are hanging out on that quilt ladder. Right: Our Focus Freeway quilt hanging out in the Rose Gold section of the Riley Blake booth!
Every Quilt Market, I want to move into April Rhode's booth! The vintage furniture, framed quilt blocks and detailed projects make her booth so inviting. You could spend hours in there and find so many new things to look at!
Cathy Nordstrom's little corner of Andover Fabrics' booth was pretty darn adorable! We made our Darby Road pattern into a pillow with some of her prints and love how it turned out. Making our larger quilts into pillows is becoming a hobby!
Admittedly, we are much more dog people than cat people. But, Caturday by Felice Regina is too cute! Her cat illustrations are spot on and the color scheme is feminine and fun. I am super impressed by that paper-pieced cat face!
The Claude Monet booth had a live water fountain, yes, live! How fun is that! Our Darby Road looks right at home draped on that bench next to the bubbling fountain.
Dear Stella launched a new basic this year and we love it! Chroma by Rae Ritchie looks fabulous in our Hootsville Row, Prism Parkway and Elsie Avenue patterns (top left to right).
Elizabeth Hartman's booth is always a crowd favorite! She won best booth for creativity and that comes as no surprise to me - the detailing in those reefs is amazing!
Kim Schaefer launched a new line of basics through Andover Fabrics and we made an Elsie Avenue pillow with it! It turned out too cute and fit right in over in the Brushline booth.
The Michael Miller Fabrics booth is always so bright and inviting! This year they had large appliquéd pets, a wall of fabric flowers and they featured a Clay Court we made out of Our Yard by Sarah Campbell.
This little Elsie Avenue pillow hung out over in the United Notions / Moda Fabrics booth. We made him up in a bunch of Moda's newest lines and absolutely love how he turned out!
Jennifer of Monaluna is one of the sweetest people ever and her organic fabrics are to die for! We made our Alligator Alley out of her new Cottage Garden fabric line and I can't wait to get my hands on some of her new Haiku 2!
One S1ster is Janet Nesbitt of Buggy Barn's new adventure, and she is killing it! I have always loved her stuff and I can't wait to make some of those sheep and cows in bright colors!
Sandra Clemmon's new line "Make It Blossom" is adorable and her booth was absolutely stunning! She made all those 3D butterflies that are circling the quilts and I am in awe!
Jessica of Sew Many Creations is one of my favorite human beings! She always has a smile on her face and is a talented designer to boot! If you are in need of some colorful cork fabric to sew with - she's your girl!
Tula Pink is another habitual crowd favorite. Her booth this year was beautiful and inviting - the english paper-pieced on the left wall is absolutely stunning!
Violet Craft's paper-pieced animals are amazing - there is no doubt about that. This Market was all about the peacock. She was selling these colorful peacock enamel pins and we each came home with one!
And last but not least is the Uppercase 2 corner of the Windham booth. I love the versatility of this line! The primary colors and geometric shapes make this a great line for everyone! That is our One Way pattern on the right.
Well that is all we have folks! It was a great Market in Saint Louis and we are already working on projects for Fall Market in Houston! We will have a new block-of-the-month and few other fun projects! Stay tuned!