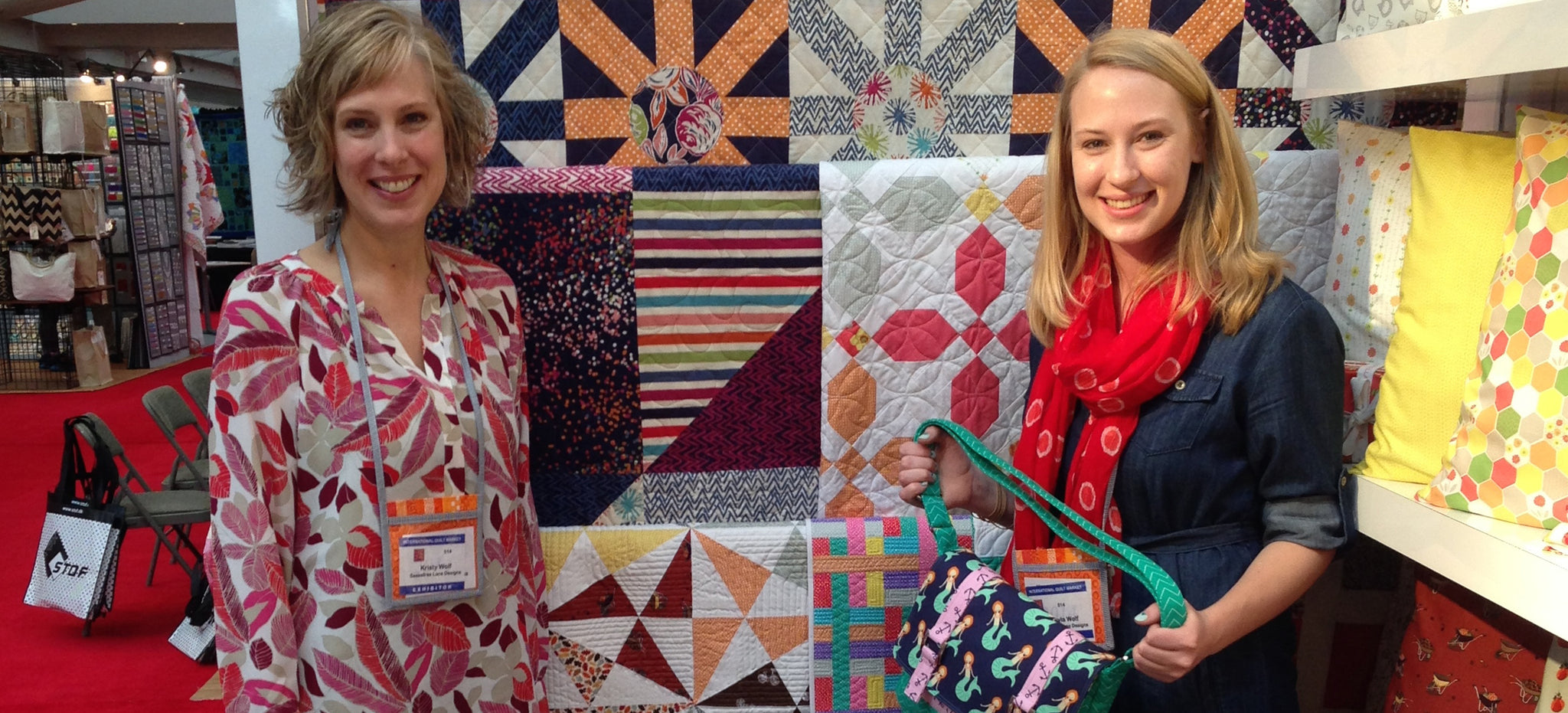 Quilt Market in Pittsburgh Take 3
Yesterday we shared half of our Quilt Market photos and today we are showing the rest! Here are some more creative booths, inspiring people and random Pittsburgh fun!
The Monaluna booth - always so inviting and creative! 
Top: The whole gorgeous booth. Middle Left: Our Shelby Satchel made in Under the Sea. I can't get enough of that scallop print! Bottom Left: How cute is that little alligator!? Bottom Right: Our Euclid Avenue made in Haven!
We had a few projects pop up in the Brewer booth!
Left: Someone made up our Lombard Street in these shiny gorgeous purple fabrics! So fun to see! Right: Our Shelby Satchel bag made by our friend Juli Kieny in red, black and whites! 
A random smattering of fun things!
Top Left: We are celebrating a successful tear down! Top Right: Our Shelby Satchel made up in Parson Gray fabric and hanging in the Free Spirit booth! Bottom Left: Giant yo-yo wall at the Art Gallery booth. Bottom Right: Amy Bradley's new Pirate pattern! It is just darling!
The Hoffman California Fabrics' booth - I failed to get an overall photo of the booth but here are our projects!
Left: Our Lullaby Lane quilt made up in Suzy's Zoo fabric. Right: Our Mulholland Drive quilt made up in some gorgeous Cockatiel batiks.
The Robert Kaufman booth - these booths are always gorgeous! I want these girls to come decorate my little apartment for me!
Top Left: Blueprint Basics by Valerie Wells. I love the drafting table! Top Right: The adorable Elisabeth Woo sporting her handmade clam shell dress! Bottom Left: Ann Kelle Remix bundle! Bottom Right: The Ann Kelle booth looking as bright and cheerful as always!
Top Left: Beautiful Beau Monde booth! I absolutely love this quilt! Top Right: This is fun colorful Kona Cotton quilt! Bottom Left: Hanging out with the adorable Robert Kaufman girls! Bottom Right: Valeri Wells' booth for her newest fabric line, Quill! 
We had a few projects hanging out over in the Andover Fabrics booth. 
Top: Our Churndash Court made up in Pop Rox! Bottom Left: Our Shelby Satchel made up in tonal Pearl Bracelets. Bottom Right: Our Cooper CarryAll made up in Dazzle!
The American Made Brand booth - this booth came out swinging! Look at all those amazing little flags!
Left: A shot of the booth. I love the picnic table covered in quilts. And did I mention all those little flags already!? Right: Our Euclid Court quilt we made in AMB solids and Laurel Burch Basics hanging in the Clothworks booth. 
Another random smattering of awesomeness!
Top Left: Mom and I sporting our Patchwork Threads shirts at Sample Spree. Top Right: A beautiful Shelby Satchel MaryEllen Laughary made displayed in the Checker Distributors booth. Middle Left: Our sweet and talented neighbor Joel Dewberry in his booth! Middle Right: Timeless Treasures had a fun Mad Libs game in their booth. Bottom Left: Beautiful view from the convention center. Bottom Left: Being goofy while preparing for Sample Spree!
And last, but not least, the Moda booth - always amazing and so creative! We got to meet the girl who does the booth design. How cool of a job would that be! We had a few projects around the United Notions booth.
Top Left: Our Euclid Avenue made up in Zen Chic's new line, Figures. Top Right: Neat Moda sign. I love the color scheme they had this Market. Middle Left: Our Shelby Satchel made up in Sweetwater's new line, Elementary. Bottom: Our Churndash Court quilt we made using Bonnie and Camille's Miss Kate fabric line! 
Well, that was Quilt Market. One just ended and we are already preparing for the next! We have one last pattern to introduce, then we will start showing our Quilt Market projects in detail. Thanks for stopping by and Happy Sewing!