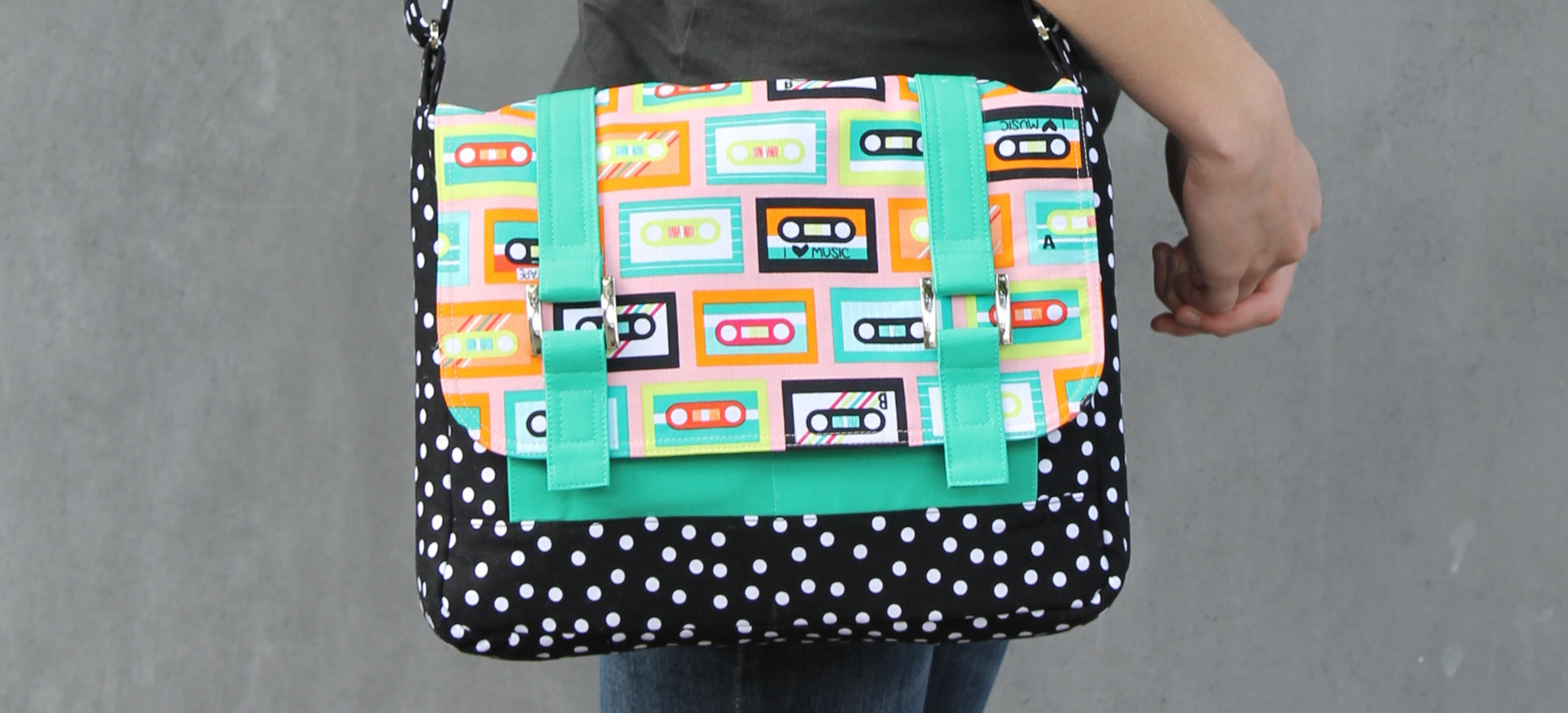 Introducing the Shelby Satchel!
We have tons of Quilt Market projects to share, but first we have to officially introduce two more patterns! The first up is the Shelby Satchel, our new fun crossover messenger style bag. The bag contains two front pockets, two back pockets, one zipped coin pocket and one padded tablet pocket. This versatile bag finishes at 11.5" x 9" x 2" and is perfect for men and women.
We have handy-dandy hardware kits to go with our Shelby Satchel bag patterns. The kits include two Magnetic Snaps, two 1-1/4" wide Handle Oblongs, two 1" wide Front Buckles and one 1-1/4" Handle Slide. I love the look hardware gives a bag! And I promise, it is all easy installation! 
This bag has a ton of pockets! It has two front pockets right under the flap that are the perfect size for cell phones, lip balm and all the other stuff you want readily available. We designed this bag to be tablet friendly. There is an inside padded pocket that fits an iPad snuggly and all other tablets! 
The padded tablet pocket has a smaller zipped pocket on the front for little gadgets and coins. The shot below shows the inside and how the pockets can be used.
There are also two pockets on the back of the purse. On my purse they usually end up full of receipts that I empty out and throw away once a month!
The purse has an adjustable handle so you can find your sweet spot on your hip. Thank you to my adorable little sister for being my model! 
For the cover bag, we used all Robert Kaufman fabrics. We chose a fun mixtape print from Ann Kelle's Beatbox collection for the flap, a white dot on black from Ann Kelle's Remix collection for the bag body and the Kale Kona Cotton solid for the bag accent. 
We made a few more
Shelby Satchels
for Quilt Market, so I will be sure to show them off soon! Be sure to stop back by on Friday to see another
Shelby Satchel
and to take advantage of our new pattern sale (details on Friday)! Thank you for stopping by!