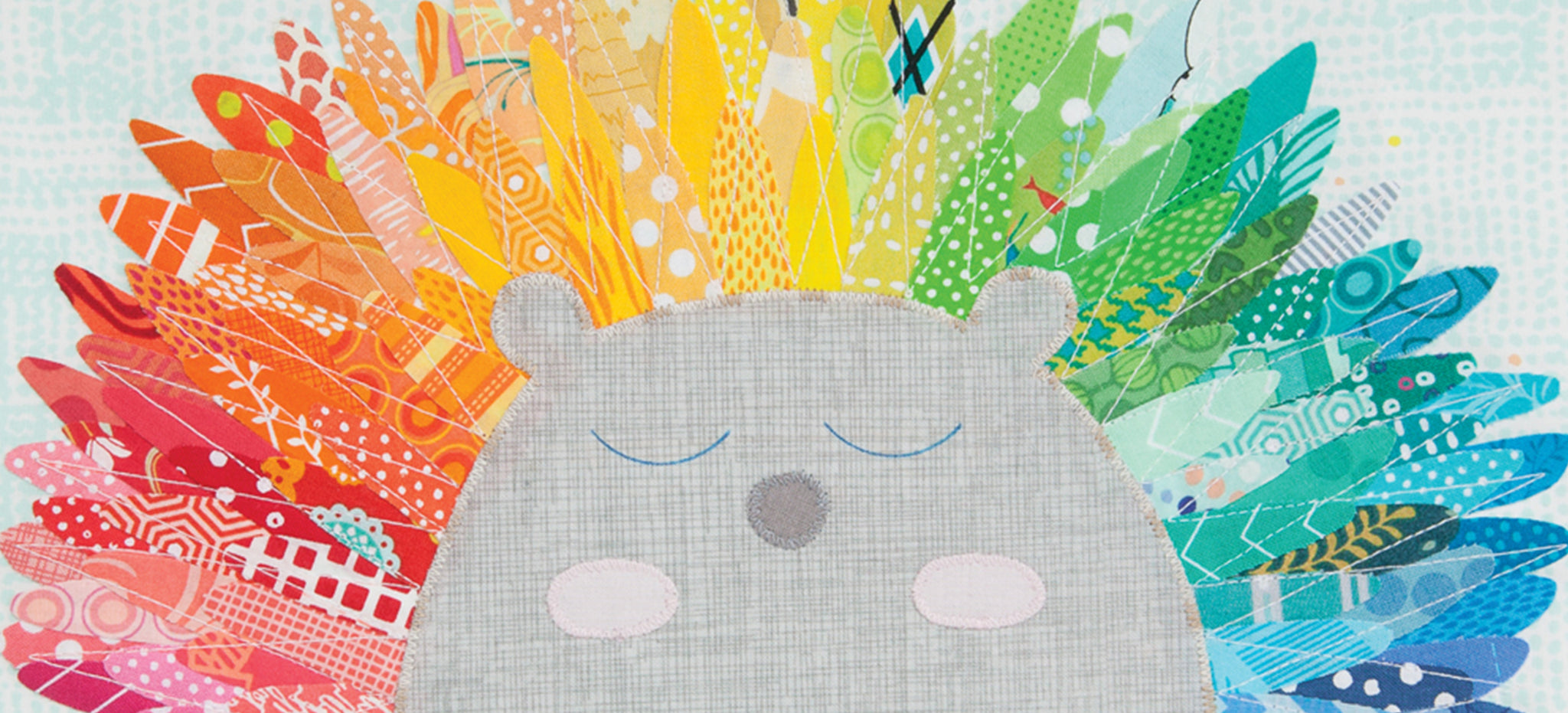 Quiltmaker's 100 Blocks Vol. 11
It is that time again! Quiltmaker's 100 Blocks Vol. 11 is on sale tomorrow and we are super excited to share our blocks, Hailin' and Free Hugs with you!
Both of our blocks for this issue have some unique elements! First let's take a closer look at that adorable cab my Mom, Kristy, designed. She pieced three pieces of fabric to create the background and appliquéd on top. She created a fun whimsical cab with a very tall top! To create the look of glass in the windows, Kristy diluted some white fabric paint and applied it evenly between the stitches. Isn't it adorable? It makes me want to be in NYC hailing a cab! 
Block Size: 12"
Block Number: 1019
Block Name: Hailin'
Designer: Kristy Wolf
Techniques: Piecing & Fusible Appliqué
My little rainbow hedgehog was inspired by the scrap bins I was organizing awhile back. When I moved, all my little scrap fabrics were dumped into one large (incredibly large) bag. While sorting them by color I pictured a fat and happy hedgehog with colorful spikes. Each of the 130 spikes is a different fabric, but boy was it fun to cut all those pieces out! I used a satin stitch to sew around all the body, cheeks, nose and sign. Instead of sewing around each spike, I used a straight stitch to create extra spikes on top of the fused spikes to hold them down. 
Block Size: 12"
Block Number: 1020
Block Name: Free Hugs
Designer: Shayla Wolf
Technique: Fusible Appliqué
Both of these blocks make me smile! We even share a page this issue! How fun is that?
And now for the goods! We have a few extra magazines, so we will be giving 4 away! For a chance to win, leave a comment on this post (click the post title and scroll to the bottom) telling us what your favorite sewing notion is, and submit by midnight MST, Wednesday, May 6th. I will pick four lucky winners and email them. =]
This issue goes on sale tomorrow, so be sure to pick one up if you don't win! Thank you for stopping by and enjoy the rest of the tour!