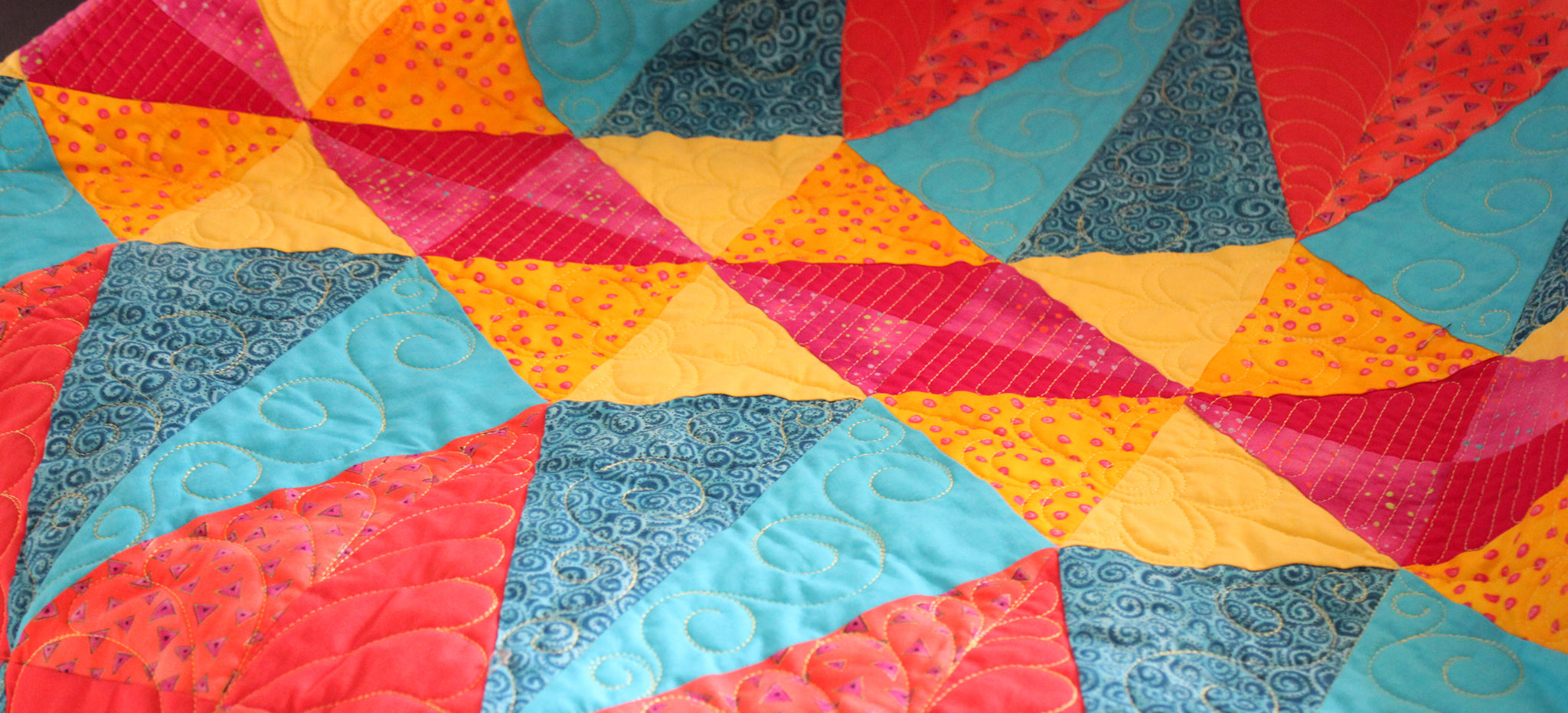 Euclid Avenue in AMB solids & Laurel Birch basics
We had a gorgeous Euclid Avenue quilt hanging in the Clothworks booth. Our good friend and pattern tester, Juli Kieny made and quilted this version and it turned out beautiful! It is a combination of American Made Brand solids and Laurel Birch basics. The quilt is the "Grande" size and finished 56" x 72".
We paired a solid with a print to get the "shadowed" effect! We put a coral solid with a coral triangle print, an aqua solid with a darker turquoise swirl print, a light yellow solid with a yellow bubble print and a dark raspberry solid with a pink dot print. 
These bright and fun colors are perfect for Juli's two little girls to play on this summer!
Juli did an amazing job quilting! She quilted serpentine lines in the pinks, feathers in the corals, a swirl motif in the turquoises and a playful flower in the yellows. It is absolutely stunning! 
Juli made a yellow label using our Easy Quilt Label tutorial. You can also see a little peak of the backing in this photo. The quilting looks great on the back! It really stands out. 
Quick Quilt Stats:
Made & Quilted by: Juli Kieny
Quilting: Serpentine lines, feathers, flowers and a swirl motif
Fabric: American Made Brand solids and Laurel Birch basics
Pattern: Euclid Avenue
Finished Size: 56" x 72" (grande size)
Techniques: Simple paper-piecing
My Favorite Part: How the amazing quilting shows up on the solid backing. 
Big thank you to Juli for doing such a beautiful job on this quilt! You can find the Euclid Avenue pattern here in PDF and paper form! If you make this or any other Sassafras Lane projects, we would love to see it - just shoot us an email! Stay tuned for more Quilt Market projects coming soon. 
In other Sassafras Lane news, we are officially on a family vacation today! Paper orders will not be mailed until the end of next week. PDF orders will send themselves and blog posts will continue. We will try to respond to emails, but it may take a little bit longer than usual. Thank you for understanding and have a wonderful weekend!