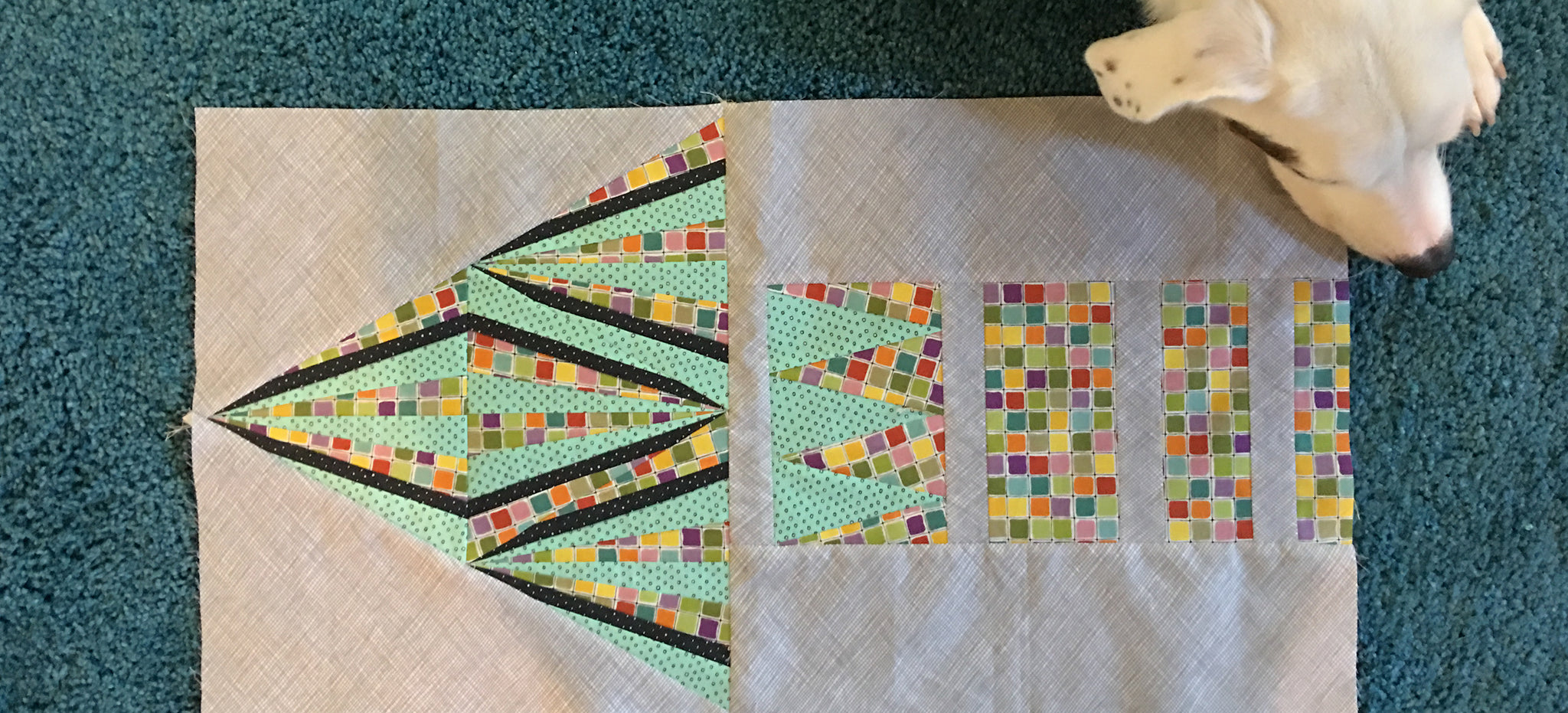 Paradox Point QAL - Block 2
Happy Martin Luther Jr. Day. I hope everyone is enjoying their weekend - wow, two weeks have flown by! It is time for Block 2 of the Paradox Point QAL. We have beautiful blocks from Kristy, Juli and Alayna to share, plus MaryEllen's first two blocks! Let's get down to business and start sharing the blocks. 
Kristy's Block:
Black, white and lime - another killer color combination! The black print features small white arrowheads and the white print features larger black markings. These two prints combined with the lime green accent looks great on the light grey background.
Juli's Block:
Think pink! Juli's feature color for week 2 is pink! She used two fun pink dots for colors A and B. The light pink features white and bright pink dots and the bright pink features lighter pink bubbles. I am falling in love with the solid back accent and newsprint background!
Alayna's Block:
Sometimes getting photos of a quilty project is difficult with a pup around! Elsie has a habit of using quilts as beds and pillows! Alayna was super excited to make this block, it was her favorite fabric combination she pulled. She paired a minty dot print with a colorful checked print. It turned out fantastic!
MaryEllen's Blocks:
MaryEllen has caught up with us and has two beautiful blocks to share. She chose a dark tonal print for the background and assorted low volume prints for the colors with changing accent colors. Her first block features a lime accent and her second a navy accent. I can't wait to see how this quilt comes together! 
Kristy's Quick Tip:
While paper-piecing, if you are not worried about being conservative with your fabric, cut everything from the widest strip to save time - and some brain cells!
Block 2 Design Options:
Color Crazy - Use your favorite colors and scraps of your most treasured fabrics to create a fun and funky block. 
Turn Down the Volume - I can't get enough of low volume quilts. They look great in almost any room!
Holi-Daze - Halloween is my favorite holiday. Making a couple blocks and turning them into a table runner would be a fun and fast project for your table in October!
Winner, winner, chicken dinner!
I am loving this sunny version of block 1 Tori Manzi shared on her Instagram and our Flickr group. That Alison Glass background is going to be fun! Thanks for sharing Tori!
Now your turn! We want to see how your blocks turn out. We have started a Flickr group so you can add your photos there. You can also tag photos on Instagram with #ParadoxPointQAL! We will pick another winner for a small giveaway from everyone who participates. 
First time here, no problem! Join in the fun. Read up on the previous posts here, grab a book and begin when it works for you. Thanks for stopping by and don't be shy with any questions and comments!