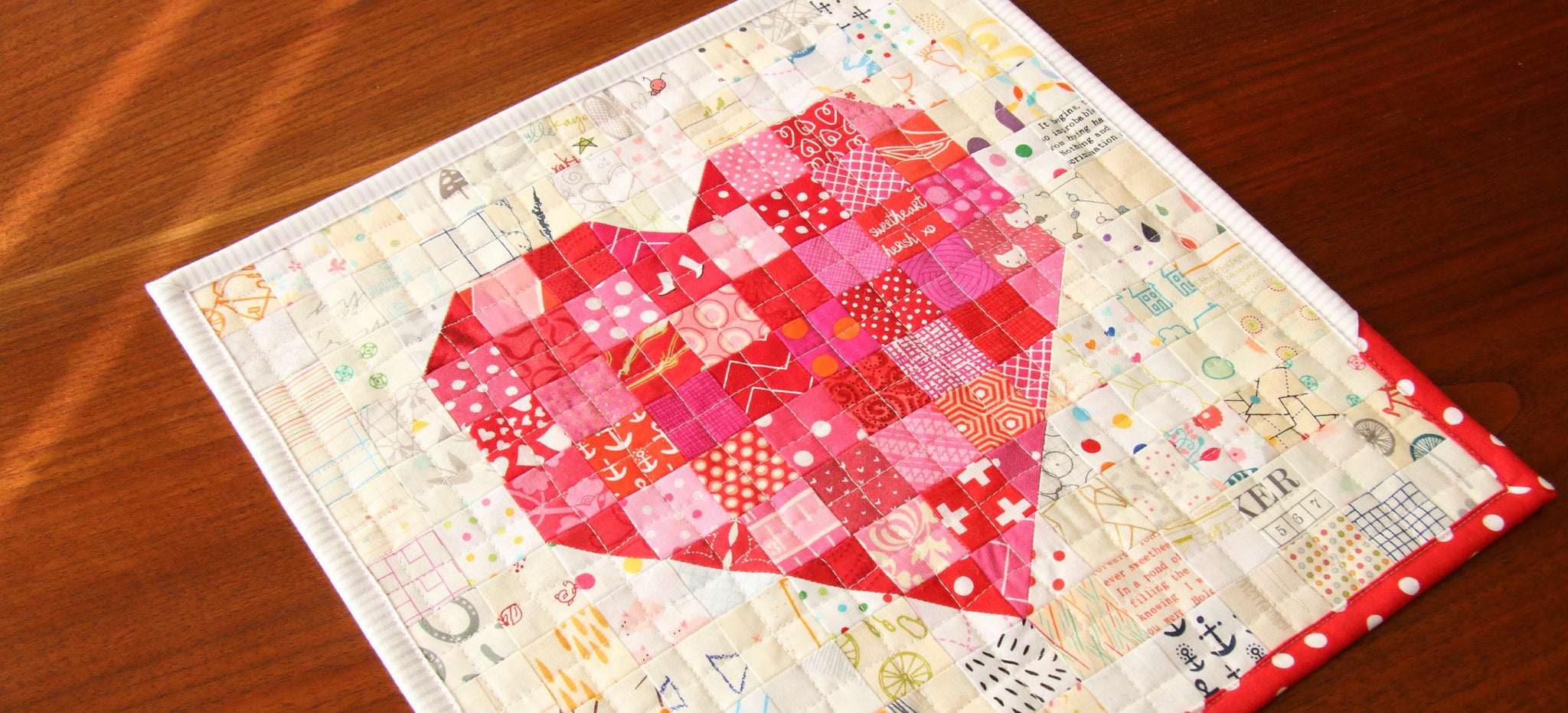 Free Patchwork Heart Mini Quilt Pattern
Love is in the air.... well, heart-shaped candy is the grocery stores at least! We are one month away from Valentine's Day, so we decided to make a little something. In 2014, we published this "Pieces of my Heart" wall-hanging as a free pattern. I loved this project, but wanted to update it a bit, so I reduced the size of the pieces in half, made the background scrappy and made a mini quilt that finishes 12" x 12". Here is a step-by-step tutorial to make one of your very own!
Materials Needed
assorted pink and red scraps

assorted low volume scraps

1/8 yard of stripe for binding

16" x 16" square for backing
Cutting Instructions
From the assorted pink and red scraps, cut:
forty

 1-1/2" squares

six

 1-7/8" squares

one 2-1/4" wide strip

(optional for binding)
From the assorted low volume scraps, cut:
ninety-two 1

-1/2

" squares

six 1-7/8" squares
From the binding stripe, cut:
Sewing Instructions
To make the half-square triangles:
Layer a 1-7/8" low volume square and pink/red square right sides together.
Draw a line down the center.
Using a 1/4" seam, sew on both sides of the square.
Cut along the drawn line.
Press the seams open. Tada! You have two identical half-square triangles.
Make a total of 12 half pink/red and half low volume half-square triangles. 
Sew the squares and half-square triangles into 12 rows of 12 squares. Press the seams of each row in every other direction. Sew the rows together to form the heart. Press the row seams open.
Finish the Quilt
Layer the heart, batting and backing fabric. Quilt straight vertical and horizontal lines through the centers of the squares (I find it easiest to avoid seams while quilting =] ). Sew the binding strip to the 2-1/4" wide pink/red strip on the diagonal. Create your binding and sew it to the quilt in your favorite method. Voila!
I loved making this little guy so much, I made two! This little mini quilt is a fun and reasonably quick project to add a little decoration to Valentine's Day or any wall! I personally will be putting one of these up on my mini wall and maybe sending the other to a special someone... okay you caught me, my Mom!
This little heart makes us smile and we hope you guys do too! If you make this or any other Sassafras Lane project, we would love to see it! Send us photos or post them to our Flickr group.