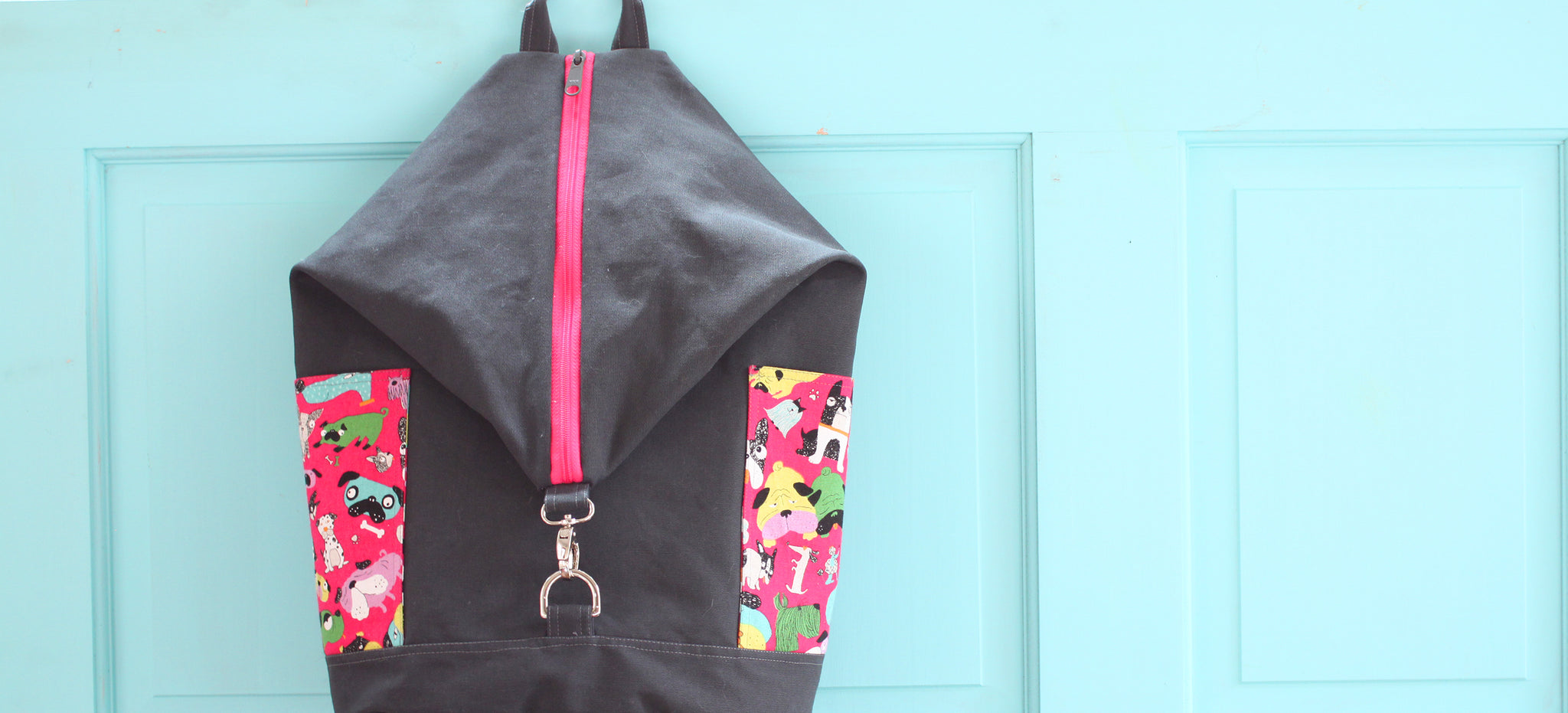 Introducing the Bugsy Backpack!
The Bugsy Backpack is up today! We have been wanting to make a backpack pattern for awhile, but were waiting on a unique idea to come to mind and this Spring it did! Our Bugsy Backpack is named after my little sister, Alayna's nickname, and has been on my back since the first sample was made. 
Bugsy Backpack Pattern Facts
Backpack finishes 15" wide x 19" tall x 6" deep.
Hardware kits are available!
Duffle style pack has large outside pockets and adjustable handles.
Pattern features quick and easy to follow photos.
Backpack is small enough folded down for kids, hiking adventure and an everyday purse - and large enough unhooked for a weekend getaway!
Pattern is available in

 

PDF and paper form.
Fun pattern to use those heavier fabrics, such as canvas, pleather and cork!
Helpful tutorial: Top-stitching 101.
Super fast construction! 
We photographed the Bugsy Backpack cover on our back patio using the aqua door and two backpacks. We wanted to show the bag folded and a little more stuffed! We tried the lime door first, but decided we liked the aqua better! Also, the dog butt hooks from Ikea are adorable!
These backpacks are addictive to make! We have made several, so we are going to show them all off! Here we go: This Bugsy Backpack is made up in a fun vintage car canvas with a teal canvas accent for the bottom, pockets and handle. 
Next up, is a backpack made with black, white and grey striped canvas fabric. This one has a Wonder Woman patch on the back. It is my day-to-day backpack that my mom made especially for me!
This Bugsy Backpack is made up in a solid navy canvas with a metallic pleather bottom and adorable car pockets (fabric from Birch Organic Fabrics).
Blue is a great neutral for all occasions and this backpack made in assorted Dear Stella fabrics by Juli is absolutely adorable! The pop of floral pockets adds a fun and bright touch.
We are mad for plaid! This fun version is made up in Midnight Garden by One Canoe Two for Moda Fabrics. The large plaid for the body paired with bright yellow pockets and blue bottom makes for a playful backpack! 
Monaluna has amazing organic canvas fabrics and we couldn't resist making a couple bags with it! The first Bugsy Backpack is made up in two amazing Simple Life canvas prints. We combined a cute tulip print with a triangle print and pulled it together with a bright red zipper!
Our second bag made in Monaluna canvas is made up in this adorable lemon print from the Juicy line! We paired the lemons with a fun orange polka dot and lime zipper for a citrusy backpack that both adults and kids love!
Next up is one of our cover bags! We used a solid charcoal canvas and added a pop of color with an adorable dog print. The bright pink pockets and zipper liven up this Bugsy Backpack!
Juli made a few bags for us and this one is my favorite! She pieced some strips together to make a fun rainbow backpack. She added in a black polka dot print for the bottom, pockets and handles and voila!
I made this Bugsy Backpack with hiking in mind! I wanted a water proof bottom that I could easily clean and a sturdy body that I could stuff with water bottles and such. So, I used some black pleather on the bottom and a emerald duck cloth for the bag. I found a fun green textured print for the pockets and I love how the bag turned out! 
And last but not least, one of my favorites! We dug into our treasured Japanese novelty canvas stash and pulled these adorable animals! It features animals lined up in rows with butts or fronts facing outward on a bright yellow/green background. We pulled the bag together with a cork bottom, pink zipper and teal pockets!
The Bugsy Backpack pattern is available in PDF and paper pattern and hardware kits are available here. If you make this quilt or any other Sassafras Lane project, we would love to see it! Send us photos, post them to our Flickr group or use our #sassafraslane hashtag on Instagram!
For 48 hours only we are having a little flash sale on the Bugsy Backpack pattern and hardware kit! Take 25% off the pattern and kit with the code BUGSY25. Sale will be from 7/5 - 7/6 PST.