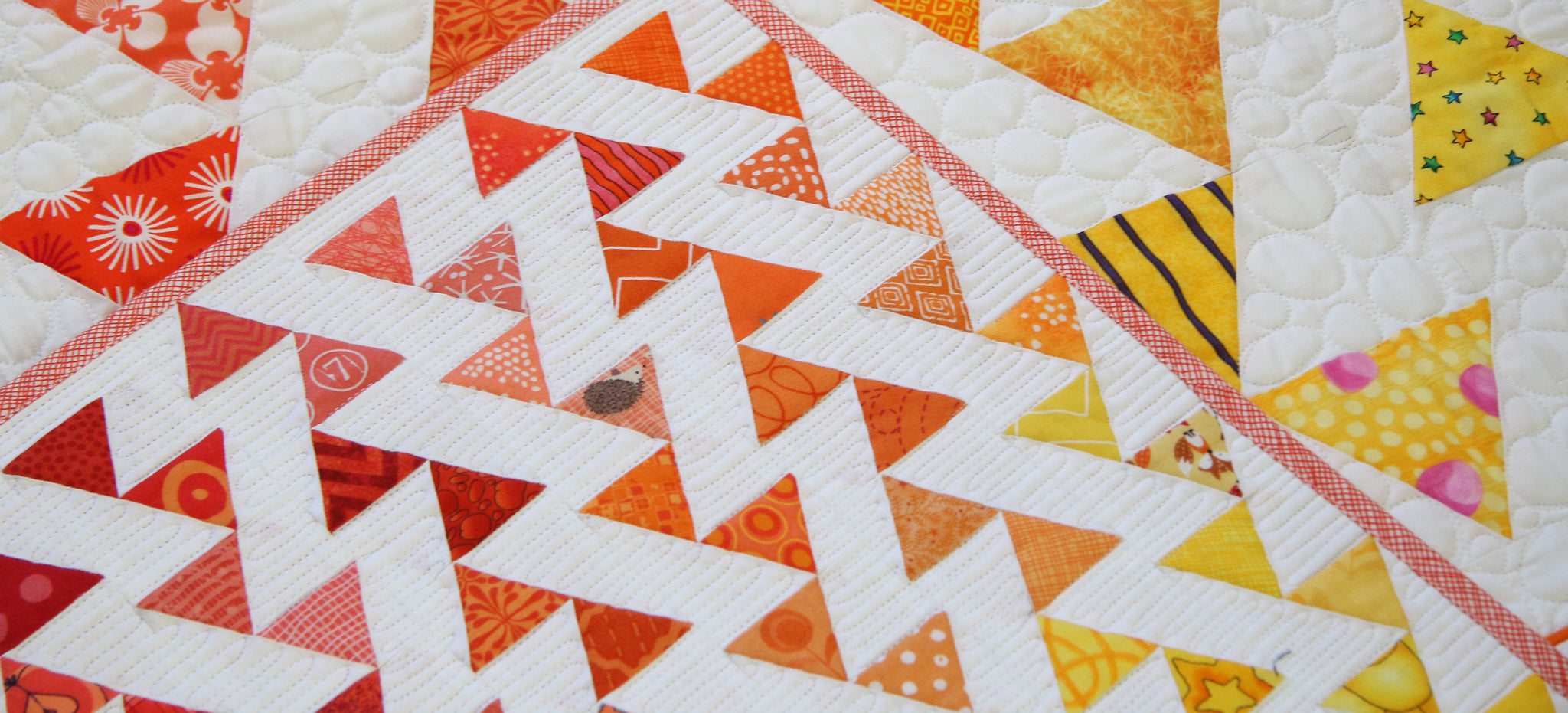 Introducing Mini Lombard Street
The original Lombard Street cover quilt is still to this day one of my all-time favorite quilts. So, when it came time to making a Mini Lombard Street, I wanted the quilt to have the same feel, but making an entire rainbow gradient on a mini seemed too busy. Kristy and I debated on gradating half the rainbow, and ended up choosing to do the warm side! We dug through our yellow, orange and red scraps bins for little treasures and came up with this!
Kristy had a lot of fun making this one! Even with the triangles being as small as they are, she still managed to hide some fussy-cut details in there! Can you see the fox, flower, #7, apple and hedgehog? 
Kristy quilted this one similarly to the original quilt, by only quilting in the white background. Instead of a bubble fill like the large quilt, she quilted horizontal lines that serpentine down the quilt between the triangles creating an amazing texture!
Quick Quilt Stats:
Made and Quilted by: Kristy Wolf
Quilting: Serpentine lines in the white background
Pattern: Mini Lombard Street
Full-size Sidekick Pattern: Lombard Street
Fabric: Yellow, orange and red scraps with a solid white
Finished Size: 12" x 16"
Techniques: Foundation paper-piecing
Here is a photo for scale, so you can see how small the mini is when being compared to the original Lombard Street. The triangles are much smaller, but still plenty large enough to make this a fun, quick and easy paper-piecing project! 
We had some leftover pieces of Alison Glass's Abacus line from a One Way quilt we made and we knew we wanted to use it in a mini! We paired it with a Wasabi solid to create this two-toned (or is it three technically?) version of Mini Lombard Street. I love this modern look and feel this one has! Kristy quilted it with an all-over square meander and added a pop of wasabi to the binding.
Quick Quilt Stats:
The Mini Lombard Street pattern is available in PDF and paper form. If you make this or any other Sassafras Lane project, we would love to see it! Send us photos, post them to our Flickr group or use our #sassafraslane hashtag on Instagram! Stop by tomorrow to see our Mini Lantern Lane quilts. Have a wonderful weekend!