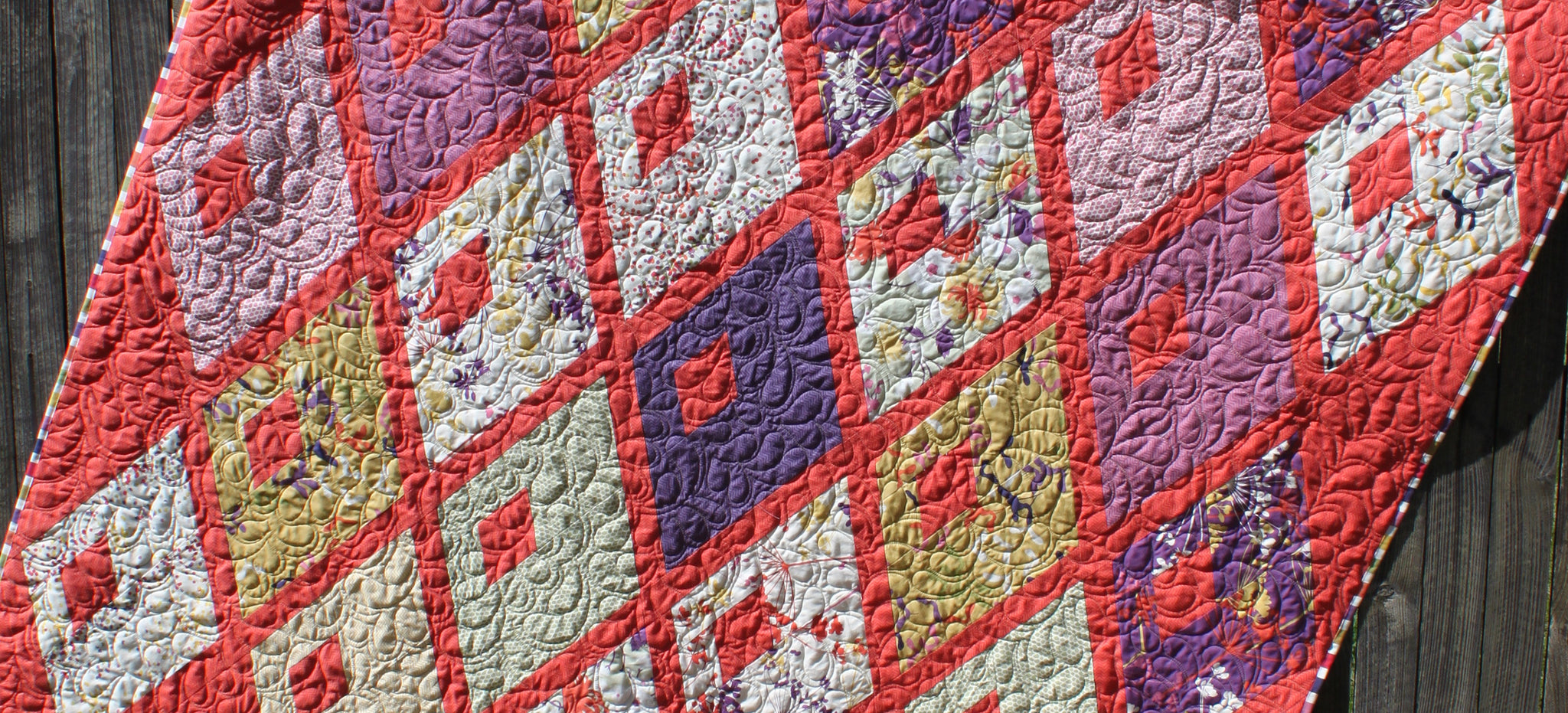 Sewology Sunday: Market Marathon
Hello lovelies. So... I am aware I have been dropping the metaphorical blogging ball. But I have a really great excuse: we have been sewing our batooties off! Market is right around the corner and we have been making some very pretty quilts for a few booths. We called in the calvary for some help, aka Mama! She is the first generation quilter of 3. It has been fun and quite productive having us all in the Orange Studio this week. I cut and ironed, Mama sewed and Mom quilted. Here are some photos of the last two weeks. Be prepared for the longest blog post ever. It is mostly photos though =]
The first quilt we whipped up is Lexington Lane for the Checker Distributor booth. We made this quilt up in Robert Kaufman Modern line, Kona cottons and Spot On basics.
The second quilt we made was Diamond Alley for Moda / United Notions' booth with Pat Sloan's new line: Bobbins and Bits.
The next quilt we put together was this Lexington Lane with So Happy by Riley Blake Designs. The little houses are my favorite!
The next quilt we tackled was this Diamond Alley in Dear Stella's new line: Piper. We love how different this one looks with the orange sashing! The striped binding is my favorite part.
Mama whipped up a fun Cooper CarryAll bag with all the leftover strips. It turned out great =]
The next quilt we made was Lexington Lane for Clothworks' booth out of their Impressions Moire II line. I LOVE how this one turned out. The tone-on-tone cool colors make me swoon. 
This next quilt is Diamond Alley for EE Schenk's booth. It is made out of their new Maywood Christmas line, All Wrapped Up. I finally captured Mama working on this one!
We are also making a Lexington Lane quilt for EE Schenk out of the fun 30s inspired line, Kimberly's Garden. I love the way this turned out! Very springy.
Wow that was long and we are tired! We have two more quilts to make for Market and can't wait to get the fabric to start. So stay tuned for more quilts and photos.  
Big thank you to Mama (MaryEllen Laughary) for helping us accomplish all of this! 
If you will be at Market in Portland, be sure to look for our projects! Thank you for stopping by.