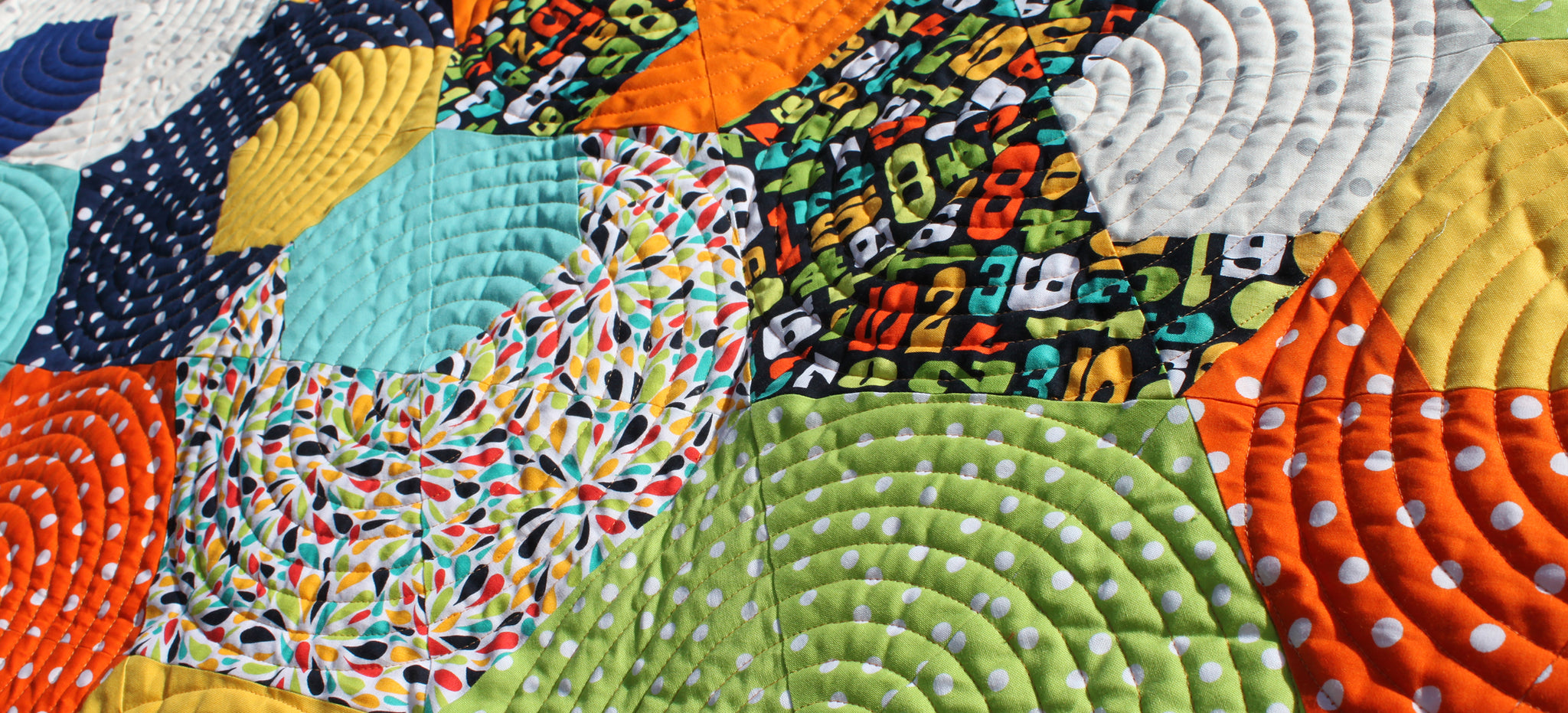 Introducing the Lexington Lane quilt!
Lexington Lane is a fun, quick, modern and easy hexagon quilt pattern. Plus it is fat-quarter friendly! So, gather all those fun fat-quarters you have been collecting for years! The pattern includes cutting and instructions for three different size quilts. 
The idea for this design came from my favorite / well-used / absolutely filthy now Clinique makeup bag from back in the day. I loved how there were little hexagons inside of the bigger ones. I love finding pattern and quilt inspiration from everyday life. I carried this make-up bag around for 5 years before it dawned on me that this was a really neat pattern! It took me a few weeks to turn it into sewable quilt pattern and then a few more weeks to turn it into an ingeniously easy-to-piece triangle quilt. No hand sewing, no partial or y-seams, no applique. Just straight stitching!
I chose a mixture of black and white, green, teal and blue prints for the first Lexington Lane quilt. Pulling fabrics for this quilt is fun. We do have a few tips though! Make sure you have quite a bit of color variance; use only 2 or 3 of the same color for each quilt. Also, be sure to have a good mix of solids (or tone-on-tones) and prints. Too many prints and the quilt gets too busy (we have a great sample of this =]! ) But for now, here is the cool colored quilt on the grey background.
Our first shots were taken at the mall draped over some flat rocks. I was completely loving it.
We found this fun white textured wall on a semi-truck loading dock. So, clearly, we taped the quilt up!
We loved this shot! I made a cover and everything. I ended up changing my mind.... but I still love this shot and quilt!
For this next quilt, we dug into our beloved Moda fat-quarter bundles. We decided to use Mod-Century by Jenn Ski. We pulled a bunch of prints and set them on a solid lime background.
We haven't had time to take this quilt out for a proper photo-shoot after our last disaster. Quilt + Oil = Sad Quilters. Anywho... This is the Venti size quilt, too big for a full shot indoors. This is the quilt where we did not have enough solids mixed with the prints. See what I mean? Pretty, but busy.
For the cover quilt, we used Modern, Kona Cottons, and Spot On (all from Robert Kaufman) on a solid grey background. This quilt is the Grande size. I liked the textured white wall from our first quilt so much, we went back! Here are the results!
Here is a closeup on the amazing quilting by the Moms.
Instagram
was used to document our time with this quilt! =] Here are some of those photos.
And here is the final cover! We really love the mix of solids, dots and busy prints in this quilt! And the colors! =] Orange, lime, teal, yellow and navy all blended together! Yum!
Key things to remember:
Fat-quarter Friendly
Simple Piecing
Mix your Prints and Solids
Awesome Hexagon Quilt =]
If you make this pattern or any other of our Sassafras Lane Designs patterns, send us an email! (contact@sassafras-lane.com) We would love to feature you and the quilt on here!
The Lexington Lane quilt pattern is available here in PDF form. Paper patterns are coming soon! Let us know if you have any questions. We are making a few more of these to be displayed at Quilt Market in Portland at the end of May, so stay tuned! I will be showing you those soon! Be sure to check back for more color ideas! Thank you for stopping by!