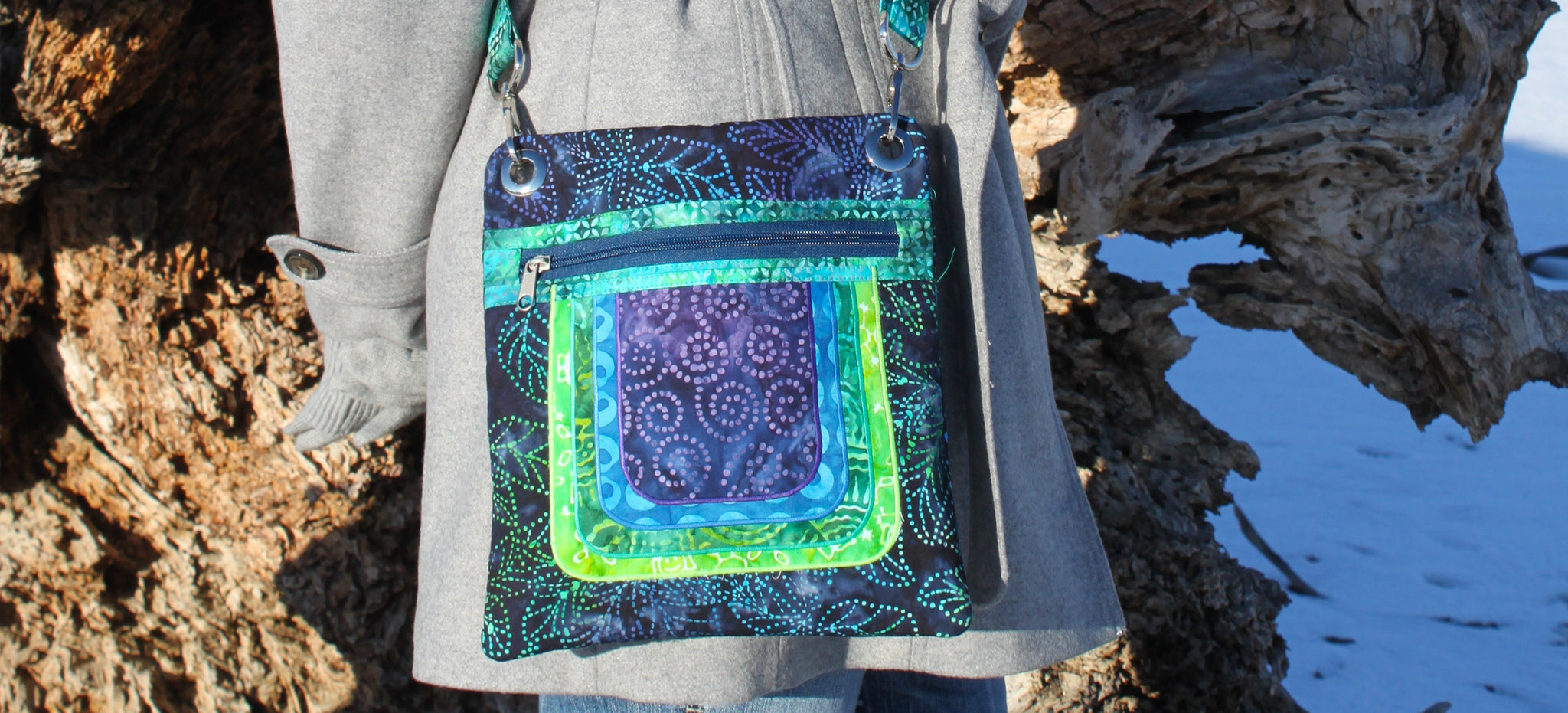 Cassidy Crossover Purse Pattern
The Cassidy Crossover Purse is a quick and fun purse pattern that is perfect for travelling the world and everyday errands. It holds all your necessities with an easy-to-install zipper closure and inside, front and back pockets. My mom and I both wear these purses daily and mine accompanied me on my trip to Iceland and Europe. Here are a few features of the Cassidy Crossover:
Quick, quick, quick! You can make this in a day.
Stash-friendly! Most of the pieces are small enough to pull right from your personal fabric collection.
Versatile. Great for day-to-day and special occasions!
Simple Hardware! The hardware gives the purse a professional look without the price tag! Plus, we have tutorials for hardware installation.
Easy zipper. Some of you may think that is a contradiction, but I promise, it is easy!
Simple machine applique. It gives the purse some va-va-voom!
Adjustable handle to fit all heights!
The first purse we made has been used to its fullest... it is a little stained from mud, coffee and other inevitable elements of travel. Not quite fit for photos. But the second and third ones are! This one is a cool color scheme. We variegated the front pocket fabrics from lime green to purple, then set it on a dark blue print with hints of the front pocket colors. Throw in a teal lining and navy zipper and this purse matches my entire wardrobe! Here is a nice closeup!
This bag has a nice adjustable crossover handle. Here is a whole body shot to show the scale of the bag on a person. Isn't that model pretty?! We did this little photo-shoot at an open space in Broomfield by a huge tree that fought lightning and lost. 
We made another bag with some of my favorite coral fabrics on a dark charcoal sketch background. Unlike the last purse, we variegated one color with different values from light (ish) to dark (er). We used a black zipper for this one. It pops a little more than the other. Here is a closeup of the purse:
My little sister commandeered this one when she was in town.... I may need to make myself another.  My mom recently taught this purse at
The Quilt Store
. Her students were amazing! Howard's bag is very similar to our bag. He made it for his daughter who he is visiting here in Colorado. Karen's bag features a bear on the front pocket and is made with really yummy brown and green batiks.
And because we are super nice, we did two helpful photo tutorials on Sewology Sunday to help with zippers and handle construction. Photos always help!
Hardware is sometimes a little tough to find, so we made it easy on you! We provide hardware kits with the hardware needed for the bag so you don't have to look all over town. Cassidy Crossover Hardware Kits include: 2 swivel hooks, 1 slide and 2 eyelets.
If you make this pattern or any other of our Sassafras Lane Designs patterns, we would love to feature you and the purse or quilt on here!
The Cassidy Crossover purse pattern is available here in PDF and paper form and hardware kits are available here. Let us know if you have any questions! Thank you for stopping by!