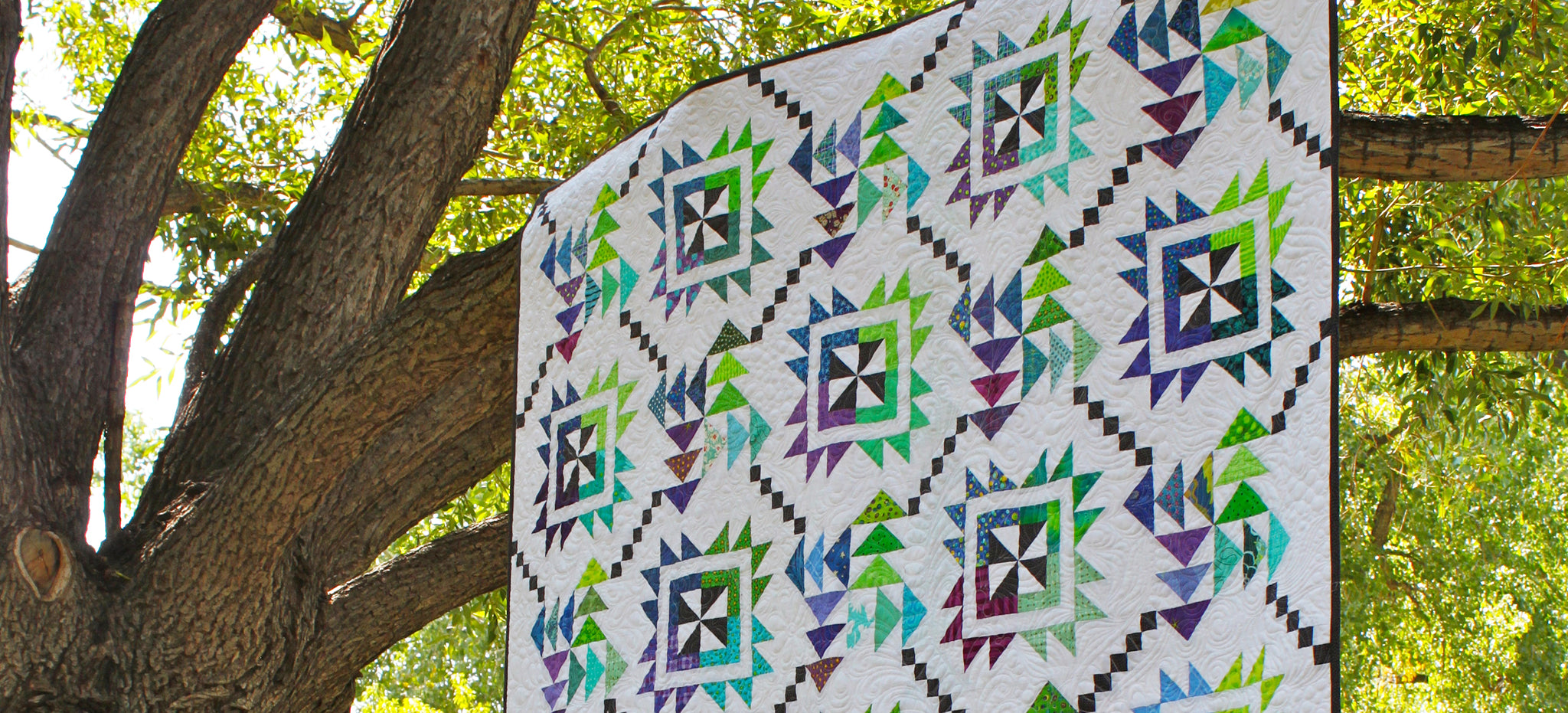 Main Street Quilt Pattern
Main Street is a Jelly-Roll, Bali-Pop or scrap fabric friendly. The two blocks create this fresh quilt with a traditional feel but modern twist. There are no classic borders, we do however pull the weave pattern out into the border. This quilt is a fun excuse to dig through those scrap piles! That is what we did! 
We decided to go with a tried and true color palette: cool colors on a solid white background. We dug through our scrap bins and pulled out greens, teals, blues and purples. We cut and cut until we had enough! Those are all of our little pieces! (Looks like a lot, but once you start sewing it gets fun!) 
We added a charcoal tone-on-tone as our accent fabric and started sewing away! Here we have my beautiful Mom in front of our design wall. I have a few rows put together here and you can start to see the cross pattern already! On the right side, you can see our less-than-beautiful practice blocks!
Here is the finished quilt! We really like how it turned out! We bound the quilt in same fabric as the accent: the charcoal tone-on-tone. And because, we can't just make one.... we made a smaller square one with warm colors on a dark batik background. It gives the quilt a completely different feel and mood!
This was another quilt we taught as a Mystery Class at our local Quilt Store. This was a great mystery class! The two different blocks had the ladies guessing until the very end! Here are some shots while they were still in class:
Top Row: Carol Cook, Jeannine Robinson, and Pat Lyman. Bottom Row: Stacy Cholas, Julie Kieny and Judy Perry.
Everyone's fabric choices were so fun and different! We had a mix of light, dark, bright, and muddled backgrounds. We had all dot fabrics, all batiks, all scrappy, all south westerny (not a word? well it is today!) It was a lot of fun to watch these quilts develop! Here are a couple finished quilts that Kristy quilted:
Main Street Quilt Pattern made by Jeannine Robinson with all Polka Dot fabrics!
Main Street Quilt Pattern made by Carol Cook. She used batiks on a light purple background!
They turned out beautiful! We are currently writing and testing the instructions for our next Mystery Class that is in February  (Yikes, that snuck up on me. Time to crack the whip!) If you make this pattern or any other of our Sassafras Lane Designs patterns, we would love to feature you and the quilt on here!
The Main Street quilt pattern is available here in PDF and paper form! Let us know if you have any questions! Thank you for stopping by! We will be featuring the Diamond Alley next, so come back soon!