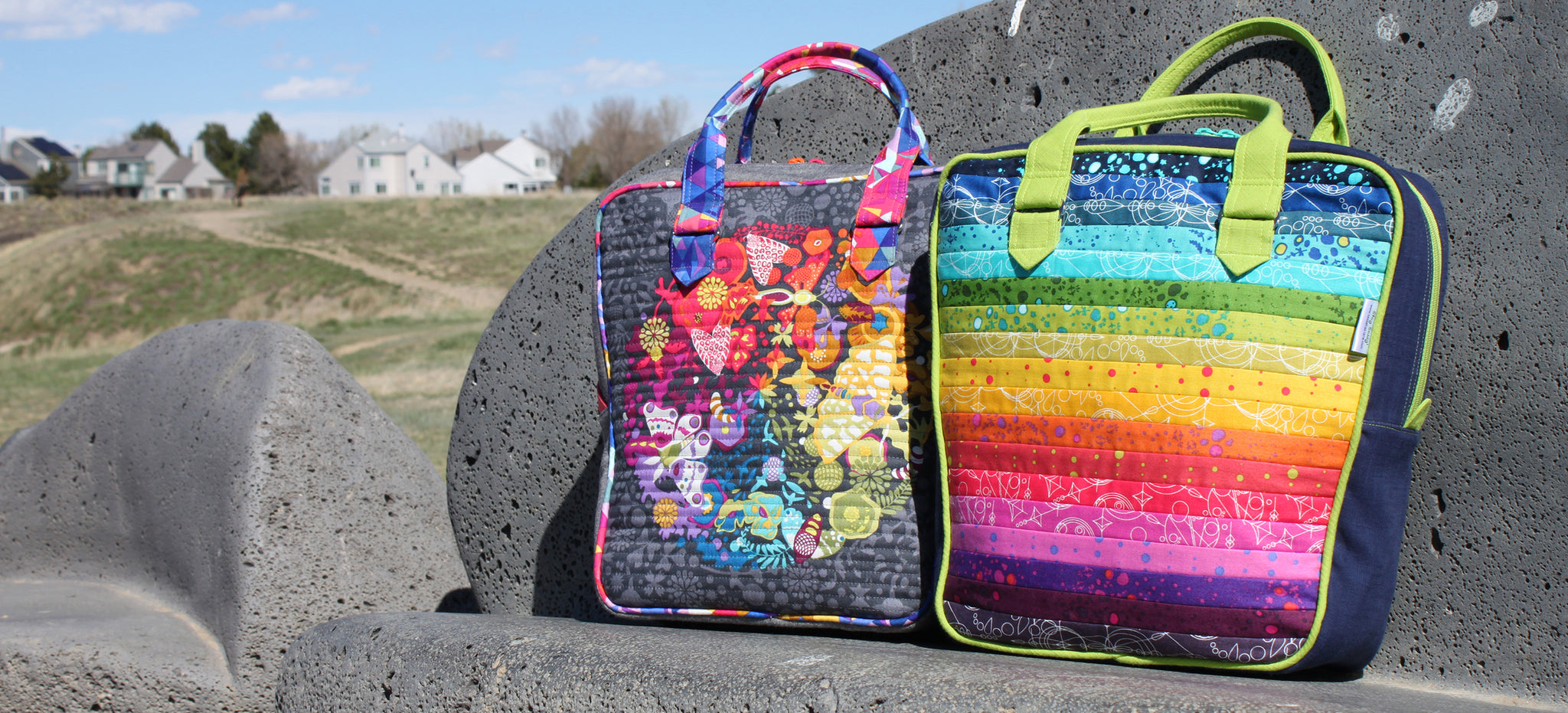 Introducing the Bubba Bowling Bag & New Pattern Sale
And last but not least... meet the Bubba Bowling Bag! This bag was inspired by my great grandma, Helen Faulkner's, retro bowling bag. We found it a few months ago while digging through storage for something or other and fell in love with it's funky trapezoidal shape. Now I feel like I should put a disclaimer on here: a real bowling ball will not fit into this bag, but it has the same shape and retro style! We have made a bunch of these and I equally love them all. But today we are sharing the two cover bags!
Both bags are made with Alison Glass fabrics for Andover. I love how different they look, but coordinate at the same time! The pattern includes two versions of the Bubba Bowling Bag: a whole cloth version and a stripped version. 
The Bubba Bowling Bag has quilted sides and finishes 12" wide, 12" tall and 4" deep. Super easy piping and simple hardware give this bag a professional finished look without complicated construction. 
We also provide handy dandy hardware kits to accompany the patterns. The Bubba Bowling Bag Hardware Kit includes four Bag Feet, four 1-1/4" Handle Oblongs and 3 yards of 3/16 Cording.
Some of my favorite details in this pattern are the triangle accent zipper ends that add a little pizazz to the bag sides, the two zipper heads that can open the bag from the center, the hardware and top stitching on the handle tabs and the fun Sass tag. Not pictured, but another favorite feature are the bag feet. They keep the bag off the ground and give the bag an oversized classic handbag feel. 
Cover Bag Stats:
Pattern: Bubba Bowling Bag
Fabric: Ex Libris and Sun Print by Alison Glass for Andover Fabrics

Finished Size: 

12" wide, 12" tall and 4" deep

Techniques: Quilting, straight sewing and piping (photo tutorial here)
My Favorite Part: There are too many to choose just one, but definitely the fabrics and trapezoidal shape!
The Bubba Bowling Bag pattern is available in PDF and paper form and hardware kits are available here. If you make this or any other Sassafras Lane pattern, we would love to see it!
We are having a sale on the three new Spring patterns this weekend! Firelights Lane, Canyon Boulevard and Bubba Bowling Bag PDF patterns are 20% off until Monday, June 8th. There is no coupon code needed, I have already reduced the prices. Start shopping here! Thanks for stopping by =] Happy Sewing!