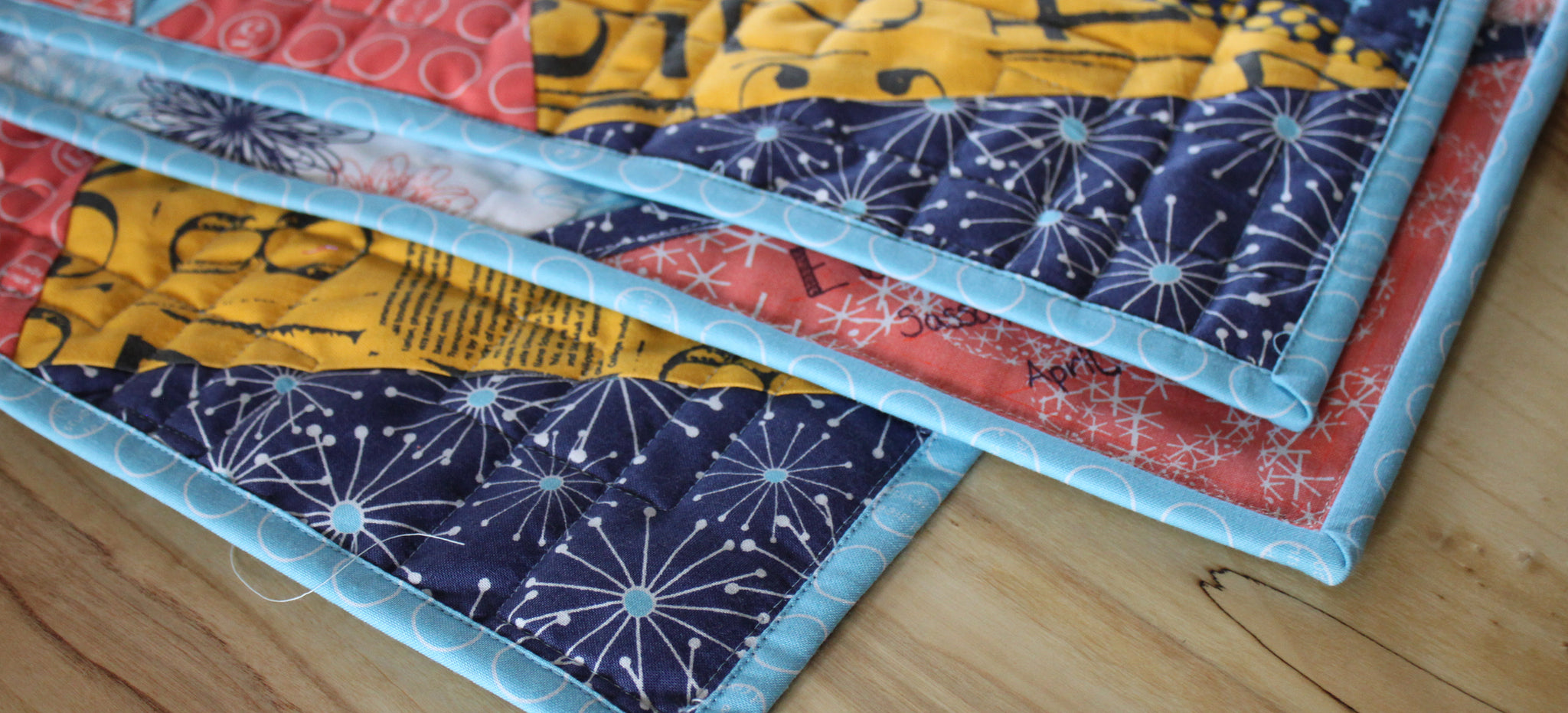 Our second project from Quilt Market made up in Moda fabrics is this fun Euclid Avenue. The quilt had an awesome spot in the United Notions booth and really showed off the fabric. We used the Figures fabric line by Zen Chic for Moda fabrics. I love this line; it makes a great guy quilt! 
Figures is an awesome line full of numbers, dots and mathematical symbols. The prints come in all sorts of colors such as salmon, yellow, navy and blue. Great guy colors! I am huge fan of yellow right now and the navy numbers on yellow is one of my new favorite fabrics!
My Mom, aka Wolf Creek Quilting, decided to do some simple quilting on this one. She quilted horizontal and vertical lines at random widths apart. I love this quilting! It gives this modern quilt that great crinkle feel that I absolutely love. 
We chose the light blue print with small white circles and numbers on it for the binding. It isn't in the quilt top, but it blends nicely and brightens up the edges. My Mom sewed the binding on by machine to the back and then flipped it to the front and top stitched with a light blue thread. 
We made a label with two triangles. One of the navy print and one of the salmon tone-on-tone. All the prints in this line are pretty busy, so the salmon tone-on-tone was our best shot for a legible label. For our Simple Label Tutorial, click here.
Quick Quilt Stats:
Made by: Shayla Wolf
Quilted by: Kristy Wolf
Quilting: Horizontal and vertical straight lines
Fabric: Figures by Zen Chic for Moda Fabrics
Pattern: Euclid Avenue
Finished Size: 56" x 72" (grande size)
Techniques: Simple paper-piecing
My Favorite Part: The large numbers and gender neutral fabrics and colors. 
You can find the Euclid Avenue pattern here in PDF and paper form! If you make this or any other Sassafras Lane projects, we would love to see it - just shoot us an email! We have one more Moda project to share with you, so stay tuned! Thanks for stopping by!