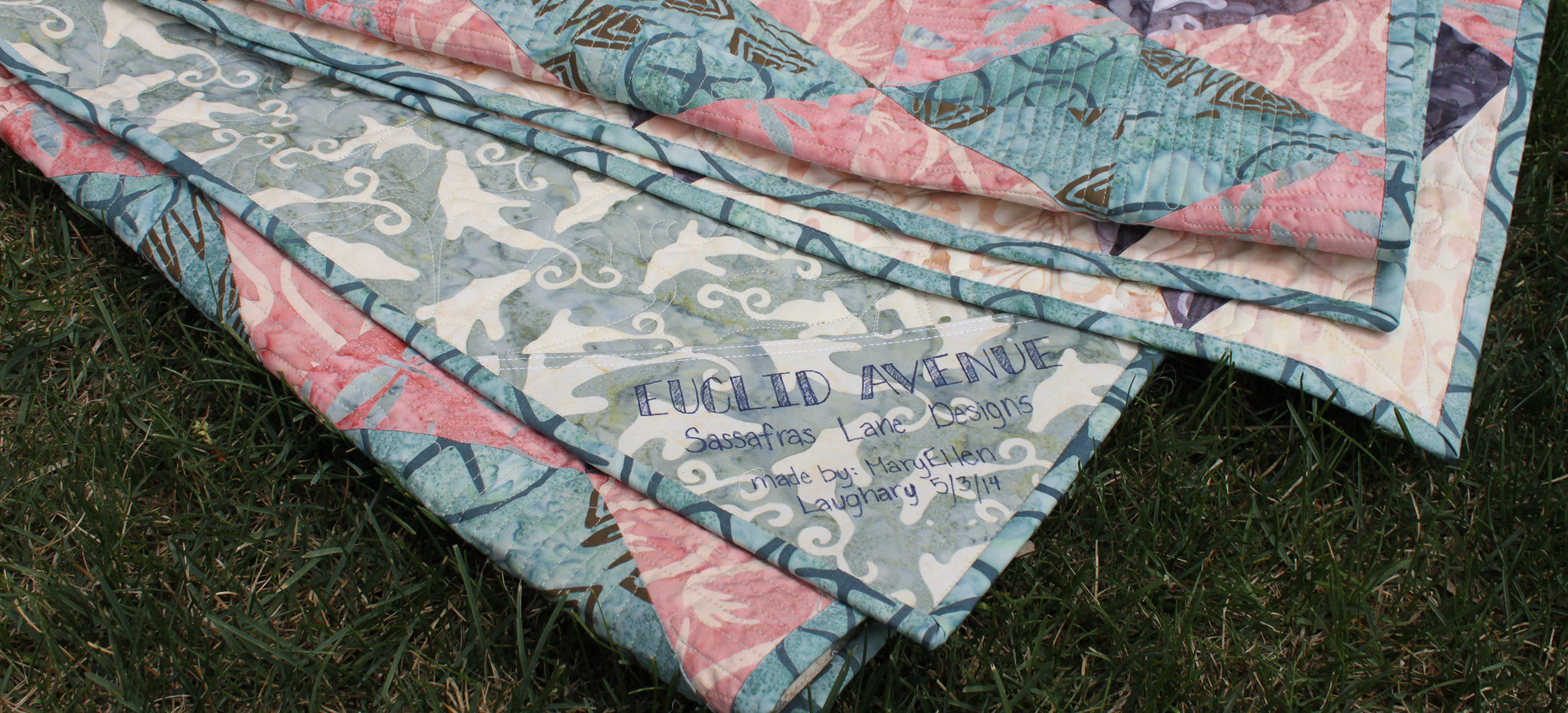 Euclid Avenue in Kahuna Batiks
We had a beautiful Euclid Avenue quilt hanging out in the Maywood Studio booth at Quilt Market in Pittsburgh. Our grandma/mom, MaryEllen Laughary made this quilt top. It turned out great! This version is a softer and more sophisticated version than any others we have shared. She used the brand new Kahuna Batiks to make this "Grande" size quilt that finished 56" x 72".
My Mom, the amazing talent behind Wolf Creek Quilting, quilted vertical serpentine lines in the teals, horizontal serpentine lines in the pinks, feathers in the purples and a hawaiian inspired flower in the beiges. 
We bound the quilt in one teal fabrics and made a label with the dolphin backing. We used our Super Simple Label tutorial. 
Quick Quilt Stats:
Made by: MaryEllen Laughary
Quilted by: Kristy Wolf
Quilting: Serpentine lines, feathers and a flower motif
Fabric: Kahuna Batiks from Maywood Studio
Pattern: Euclid Avenue
Finished Size: 56" x 72" (grande size)
Techniques: Simple paper-piecing
My Favorite Part: This is a completely different look and style than any other of our Euclid Avenue quilts.
Big thank you to MaryEllen for doing such a beautiful job on this quilt! You can find the Euclid Avenue pattern here in PDF and paper form! If you make this or any other Sassafras Lane projects, we would love to see it - just shoot us an email! Stay tuned for more Quilt Market projects coming soon. Thanks for stopping by and have a wonderful weekend!