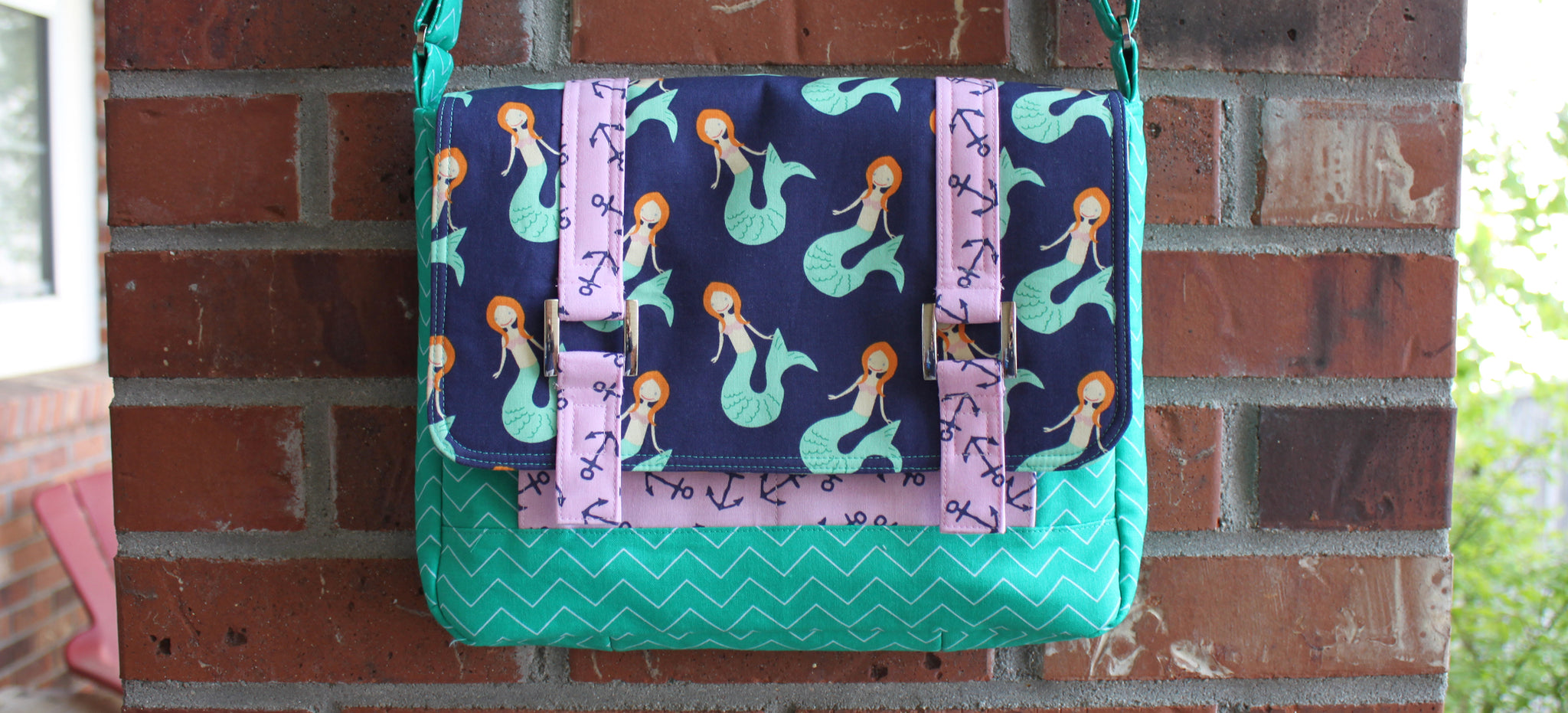 Shelby Satchel in Seaworthy
We have another project that appeared in the Dear Stella Design booth at Quilt Market to share with you! This is the Shelby Satchel bag made with the Seaworthy fabric line designed by Jack and Lulu. The bag finishes 11.5 inches wide, 9 inches tall and 2 inches deep. This is another fun version with a novelty print on the flap.
We used the mermaid print for the flap, the pink anchor print for the accent and the parrot colored zig zag for the bag body. Seaworthy has a bunch of adorable prints. It was tough to choose one for the flap, but Jessica (from Dear Stella) suggested the mermaids and made our lives easy! Plus, the mermaids are adorable!
Here is the bag with the flap open. You can see the magnetic snaps on the anchor-ful front pocket and the inside of the mermaid flap. The Dear Stella girls took some great shots of this bag too. 
The Shelby Satchel is named after our youngest pup Shelby. She is an Australian Shepard / Border-collie mix. She is our smallest, our licker/kisser, our most energetic and most well-trained dog. She sat still while I took photos of her with the bag. She doesn't like looking at cameras though... so this was the best shot I could get!
My Mom jumped in to get a few photos with her and the kisses began!
Fast Bag Stats:
Made by: Kristy & Shayla Wolf
Fabric: Seaworthy by Jack and Lulu for Dear Stella Design
Finished Size: 11.5" x 9" x 2"
Pattern: Shelby Satchel
My Favorite Part: The cute mermaids and of course Shelby!
You can find the Shelby Satchel bag pattern 
here
 in PDF and paper form! If you make this or any other Sassafras Lane projects, we would love to see it - just shoot us an 
email
! Stay tuned for one more 
Dear Stella
project tomorrow and more Quilt Market projects over the next few weeks! Thanks for stopping by and Happy Sewing!