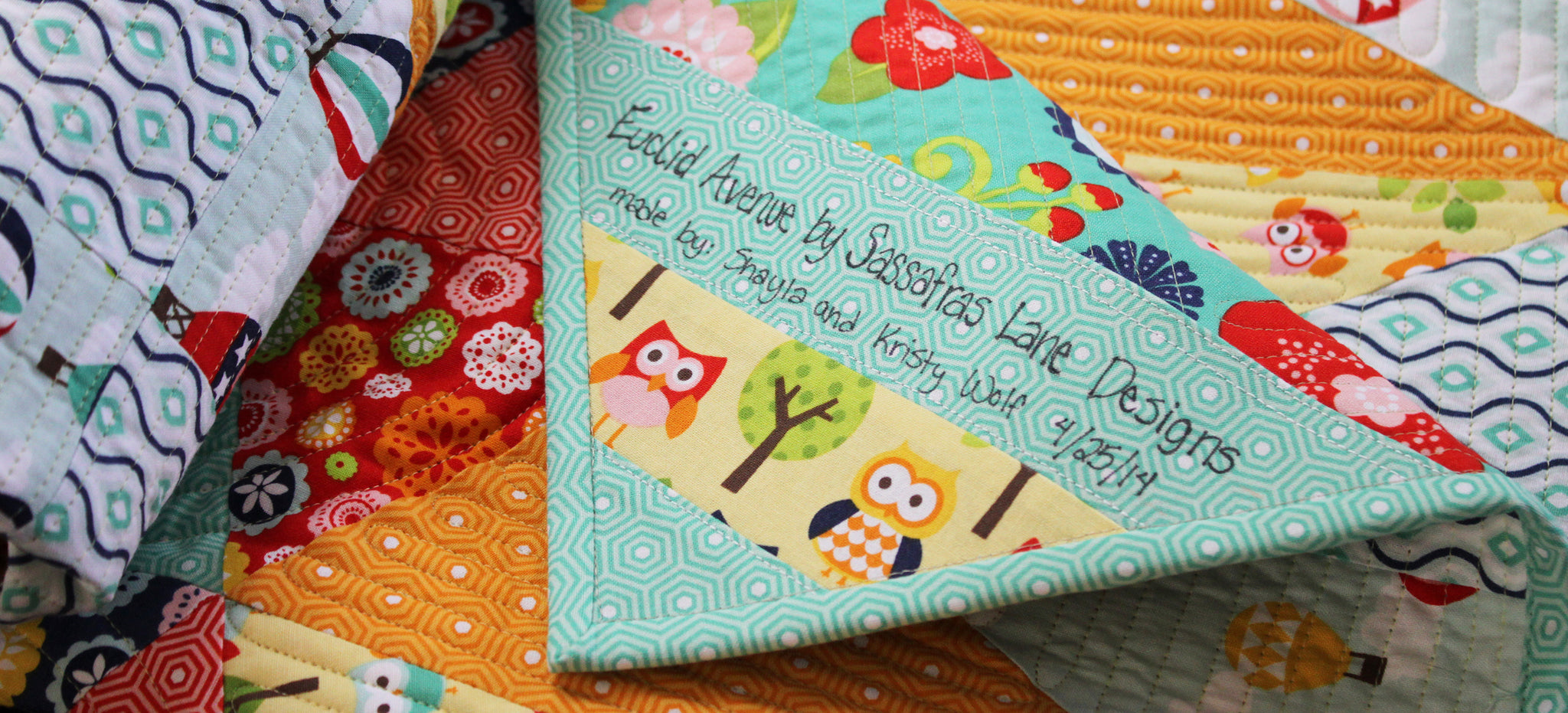 Euclid Avenue in Lazy Day
We have another project that hung in the Riley Blake booth at Quilt Market to share with you today! This is our Euclid Avenue made using the Lazy Day fabric line. We made the "tall" size which finishes 40" x 48". It is the perfect size for a baby or crib quilt. 
The Lazy Day fabric line is chalked full of fun prints. There are colorful hot air balloons, cheerful flowers, wonderful waves and cutesy owls. There is also a hexagon tonal in multiple colors that is to die for! 
My Mom, the crazy awesome talent behind Wolf Creek Quilting, quilted serpentine lines in opposite directions in the yellow and light blue sections and a spiral in the red and teal sections using a light blending thread. We bound the quilt in the teal tonal hexagon print and backed the quilt in a large teal floral print.
I made another one of our Super Easy Quilt Labels for this quilt. I pieced a few strips together and put some owls in there for fun! I love making these labels. The creative possibilities are endless but they are still so simple to add to the quilt - no hand stitching!
We love how this Euclid Avenue quilt turned out. It is so different from our cover quilt; that is my favorite thing about this pattern, depending on fabric choice and placement, you can get an amazing amount of different looks!
Quick Quilt Stats:
Made by: Shayla Wolf
Quilted by: Kristy Wolf
Quilting: Serpentine lines and spirals
Fabric: Lazy Day by Lori Whitlock for Riley Blake Designs
Finished Size: 40" x 48"
Pattern: Euclid Avenue
Techniques: Simple foundation piecing
My Favorite Part: The primary colors and adorable prints on the fabrics.
You can find the Euclid Avenue pattern 
here
 in PDF and paper form! If you make this or any other Sassafras Lane projects, we would love to see it - just shoot us an
email
! Stay tuned for one more 
Riley Blake
 project tomorrow and lots of Quilt Market projects over the next few weeks! Thanks for stopping by and Happy Sewing!