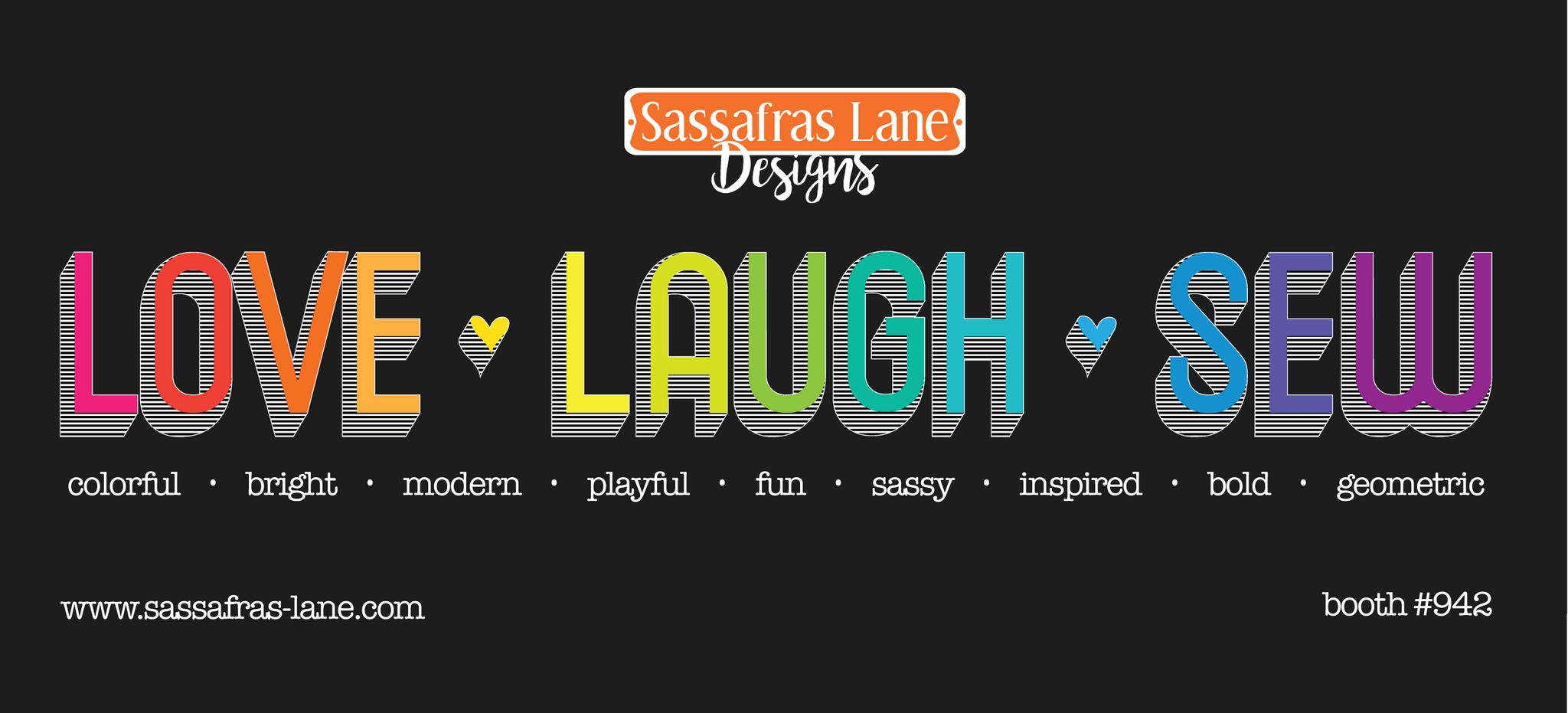 Spring Quilt Market in Portland
I know I am completely behind the curve with this post, but we are going to do it anyways! Spring International Quilt Market was in Portland, OR in May. We went, we vended and we conquered. Just kidding, but we had a blast! Portland is an incredible city and we enjoyed our free time as much as our convention time.
Our booth looked a little different this year. We didn't have any large quilt patterns we were debuting, so the big geometric rainbows everyone has come to love and expect from us were missing. What we did have were a few new smaller patterns that we fell in love with and had a blast making, photographing, displaying and selling.
In our booth we featured all new patterns! We have a brand new set of animal characters in our new Finley's Farm pattern. This farm themed pattern features a dog, cow, pig and sheep. We had a little bit of fun naming them - we have a Sir Baconbits, Mr. Beefcake and Lucy Lambchop.
Also, new this Spring were our fun customizable Express Yourself Way banners and our Quick Corky Wallet. Both of these were hits in Portland! We can't wait to see what sayings people feature on their banners!
And last but not least are our Jolly Lane and Elm Street Bag patterns. Jolly Lane is a fun holiday project that is bound to bring a smile to anyone's face and the Elm Street Bag is the perfect sized crossover bag for everyday and traveling alike.
Portland had a bike share program we took advantage of! We did some exploring along the Willamette River on these fun orange bikes.
Our friend Mickey got very excited when he thought he spotted our quilt doppelgängers over in the Art Gallery booth, so of course, we went and took pictures with them. Now, all we need are the flower crowns.
Our amazingly talented and sassy friend Jessica of Sew Many Creations debuted her first fabric line, Gypsy, at Quilt Market and it was a hit! We love everything about this line and made a few projects out of it, including an Elm Street Bag and an Express Yourself Way Banner.
We love walking around Market and taking in all the beautiful projects. This year we didn't make it around very much but we did snap some photos of some Sass quilts scattered around. Over in the Anthology booth, we had a Quadrant Court quilt (left) and a Baker Street quilt (right) made up in their "Art Inspired" series.
Over in the Michael Miller Fabrics booth we had the honor of playing with some of their new basics and made up a black, white and pink Alligator Alley quilt (left) and a rainbow Wynkoop Court quilt (right). We are big fans of their basics and have some big plans for next Spring already!
We also had one of our sewing themed Express Yourself Way banners (left) hanging in the Checker Distributors booth and a beautiful version of our Alligator Alley quilt (right) in the Dear Stella Fabrics booth made up in Rae Ritchie's newest line, Pink Paradise, by our good friend Juli Kieny.
Also spotted around Quilt Market was this gorgeous Cadence Court quilt (left) made up in saturated batiks over in the Superior Thread booth and this fun Bugsy Backpack shopping around.
Currently we are working on our Fall projects and can't wait to share them with you. Here is a hint - yes there will be new fabric, new quilts and new bags! Thanks for stopping by!