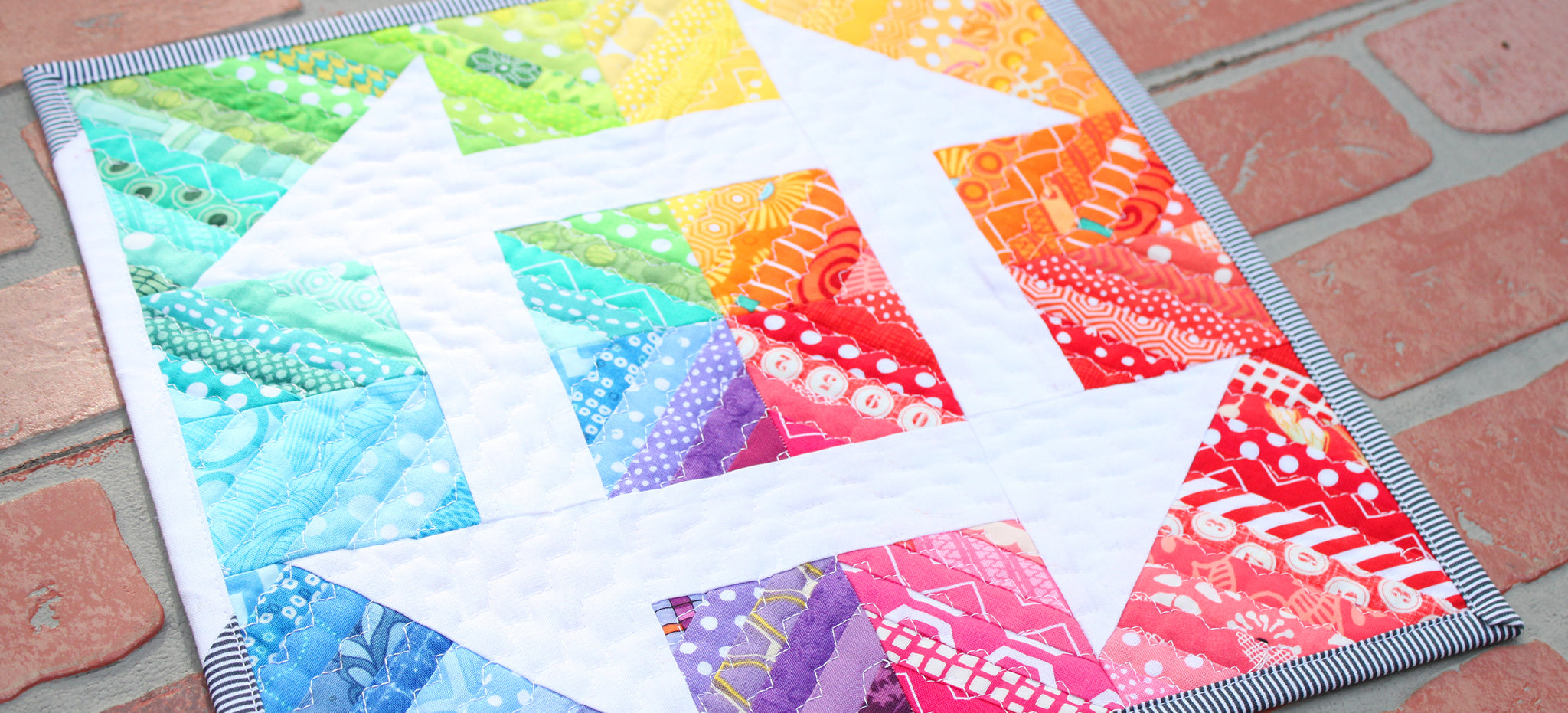 Mini Mondays - Mini Churndash Court
This week in our Mini Monday Series is our Mini Churndash Court pattern.
Mini Churndash Court is the miniature version of our bold take on a traditional quilt block, our Churndash Court quilt pattern. Both patterns will be 20% off today and tomorrow (1/15/18 - 1/16/18 PST). Now let's chat about Mini Churndash Court! 
How Mini Is This Mini?
We created the Mini Churndash Court by downsizing the original to 1/3 the size! The original baby quilt / wall hanging measured 36" x 36" and the Mini Churndash Court quilt finishes at 12" x 12".
Choosing Fabric
The Mini Churndash Court pattern calls for assorted 1.25" wide scraps and a churndash fabric. Playing with fabric placement in this project can lead to some amazing results! Dig through your scrap bins and create a striking rainbow, stick to a theme of all cool or warm colors or grab all the fabrics you have of your favorite color! The Mini Churndash Court takes on a whole different look when the churwndash is bold vs when the background stands out!
Techniques & Skills
Keeping all these tiny strips straight is made super easy with some simple foundation paper-piecing! New to this technique? No problem! This is a great starting project. Check out our tutorial for step-by-step photos.
This is also a fun project to experiment with decorative stitches as quilting! For the cover quilt, I elongated the zigzag stitch as far as my machine would let me and followed the lines of the seams through the quilt!
Inspiration Gallery
We have made more than a few Mini Churndash Court mini quilts. A few of them have been turned into pillows and gifted, but I was able track down four different minis to share!
This first quilt is true to Sass style, and by that, we mean rainbow! We dug through our scrap bins and created a gradation of color around a white churndash.
This quilt was made with some beautiful cool colored batik fabrics. The saturated colors make a great background for a light churndash. 
This mini quilt features a back-to-school themed line. We used the bold red tone-on-tone fabric for the churndash and it quite striking!
This quilt features the happiest of colors - yellow! Taking on the color scheme, this quilt only uses assorted yellow scraps with a white churndash.
Share Your Mini Churndash Court Quilt!
We hope this inspires you to dig through your scraps and make a Mini Churndash Court! If you do, be sure to share photos on social media so we can see it. Post them to our Flickr group or use our #sassafraslane hashtag on Instagram!
Stop back next Monday to check out the next Mini Monday post.