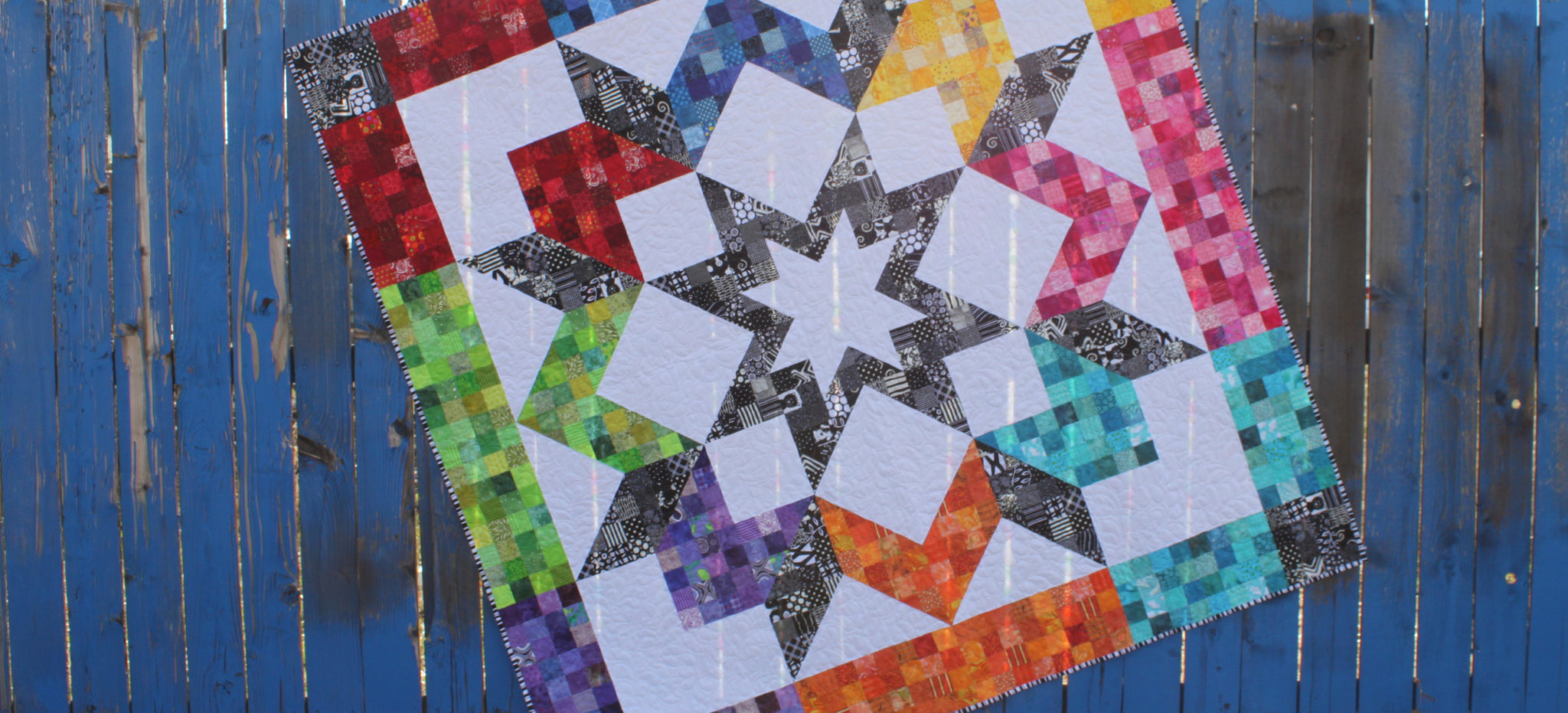 Atlantic Avenue Quilt Pattern
Atlantic Avenue is a modern and scrappy twist on the classic Carpenter Star quilt pattern. This quilt is a fun way to go through all your fabric! There are instructions for fat-quarters, 2 1/2" strips (Jelly Rolls & Bali Pops) and 2 1/2" squares. So, depending on how adventurously scrappy you want to make it, there are options! We made 2 (of course!) The first one we made was completely scrappy. We divided the Main fabric into 8 different colors: Red, Orange, Yellow, Green, Turquoise, Blue, Purple and Pink. The Accent fabrics are Black and White (mostly black). Here it is:
When we were driving around, looking for a place to take photos, we stumbled upon this blue fence. Parts of it were falling down, parts were already down and this section in the middle was the perfect spot for this photo! The view behind the fence... not so pretty, but that is why we crop!
We have these really handy and overstuffed fabric scrap buckets that make it kind of fun when we need to find a bunch of small pieces! These are the ones we went through for this quilt. Messy but strangely efficient. We cut all 2 1/2" squares for this one. No strip piecing... crazy? Yes, but more scrappy!
We used a solid Kona white background and a fun black & white stripe for the binding to pull back in the black & white accent pieces. The pattern makes enough 2 1/2" squares to make a border. For this Super Scrappy version we pulled the colors out from the sections. You can make the border pieces random or play with them as much as you want too! 
Now for the next Atlantic Avenue quilt we made, we used Aqua batiks for the main fabric, Lime batiks for the accent and a very dark navy batik for the background. I love the difference between the two quilts. One is modern and funky while the other is striking and contemporary. 
We hung this quilt up on a large grain silo! It was kind of fun to hang a contemporary quilt on a country apparatus. Plus, I love the way these colors look on the grey metal! We used fat-quarters to create this beauty. We really love these colors, so we have a plethora to choose from! In fact, it was hard to narrow it down!
This was another quilt we taught as a Mystery Class at our local Quilt Store. This was a great mystery class! The quilt was completely different from any other mystery we had put on, so the ladies didn't have any guesses in a correct direction. Here are some in progress shots:
Atlantic Avenue Quilt Pattern made by Stacy Cholas
Atlantic Avenue Quilt Pattern made by Judy Perry
Atlantic Avenue Quilt Pattern made by Jo Brennan after it was quilted by Kristy
They turned out amazing and so different! Our next Mystery class is around the corner! If you make this pattern or any other of our Sassafras Lane Designs patterns, we would love to feature you and the quilt on here!
The Atlantic Avenue quilt pattern is available here in PDF and paper form! Let us know if you have any questions! Thank you for stopping by! We will be featuring the Cassidy Crossover purse pattern next, so come back soon!