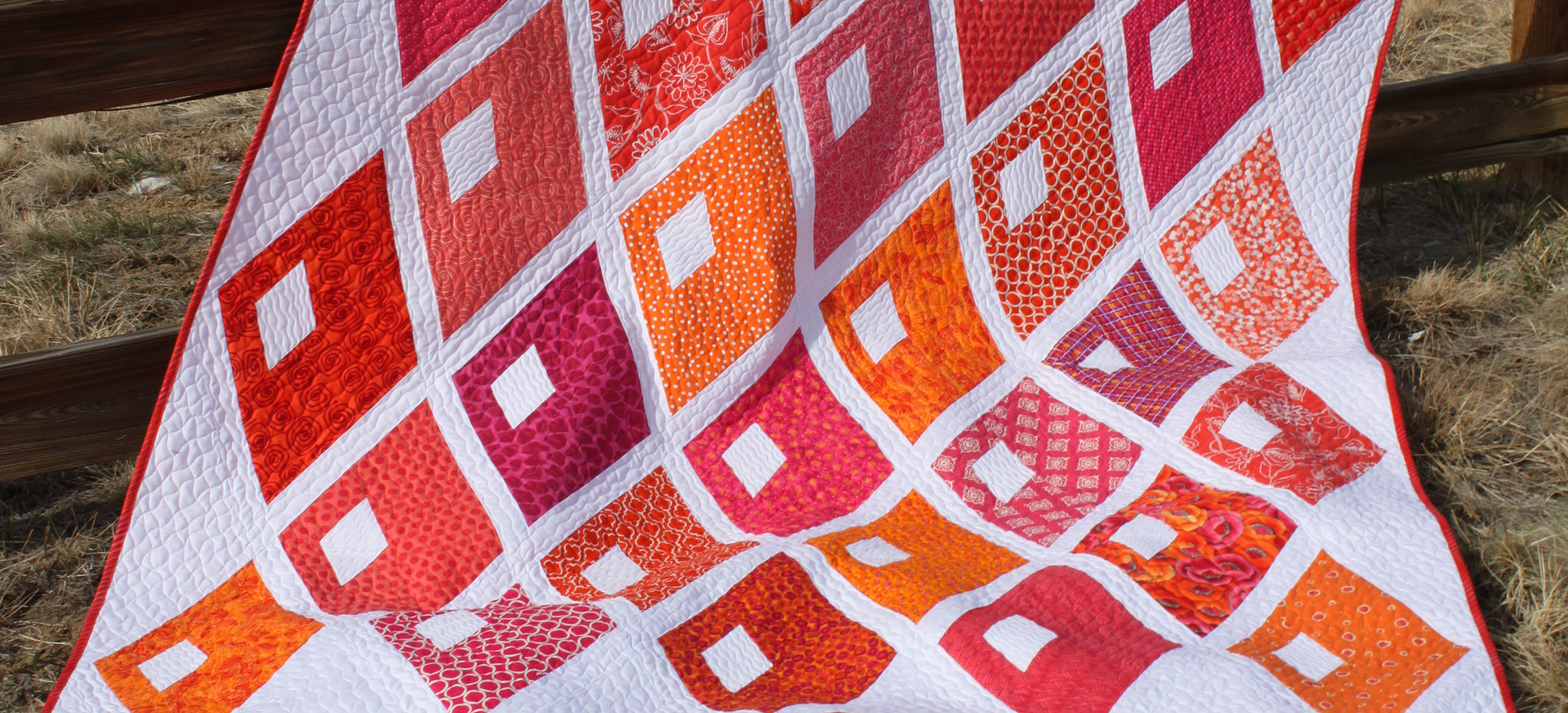 Diamond Alley Quilt Pattern
Diamond Alley is an easy, fun and modern diamond quilt pattern. This pattern is great for large prints and goes together quickly. Using a 60 degree triangle ruler we construct these modern diamonds. Putting them together is easier than you think! We chose to use the stack of orange, coral, and pink fabrics I have been collecting! 
They look more orange than anything else in this photo! After I made a few diamonds I laid them out on the design wall. 
I really started to love how these were coming together! And, good thing too, because I used some of my favorite fabrics, like my orange spiderwebs! But, I figured this was the perfect quilt for them because they don't get cut up into little pieces! After I added the sashing (in a brilliantly easy way), this is how the quilt turned out:
Look at those pretty Rocky Mountains in the background! We love how this one turned out! But, you know us, we can't just make one of anything! Here is one we made with limes, teals and blues on a light grey background:
Looks like a storm is coming! It was quite windy the day of this photo! Kristy is behind the quilt making sure it doesn't fly away! 
There she is! You can tell from her crazy hair how windy it was! We wanted to get pictures before it started snowing... and we succeeded! But, only after an embarrassing photo was captured! =] Kristy taught this quilt at the local Quilt Store last weekend. Here are some photos of the fun color-ways chosen! 
Linda Bus (left) used a variety of purple fabrics on a light grey background! Donna Green (right) used a collection of limes, yellows, teals, browns and navy. Both of them are going to be beautiful! If you make this pattern or any other of our Sassafras Lane Designs patterns, we would love to feature you and the quilt on here!
The Diamond Alley quilt pattern is available here in PDF and paper form! Let us know if you have any questions! Thank you for stopping by! We will be featuring the Cassidy Crossover and a handle tutorial next, so come back soon!