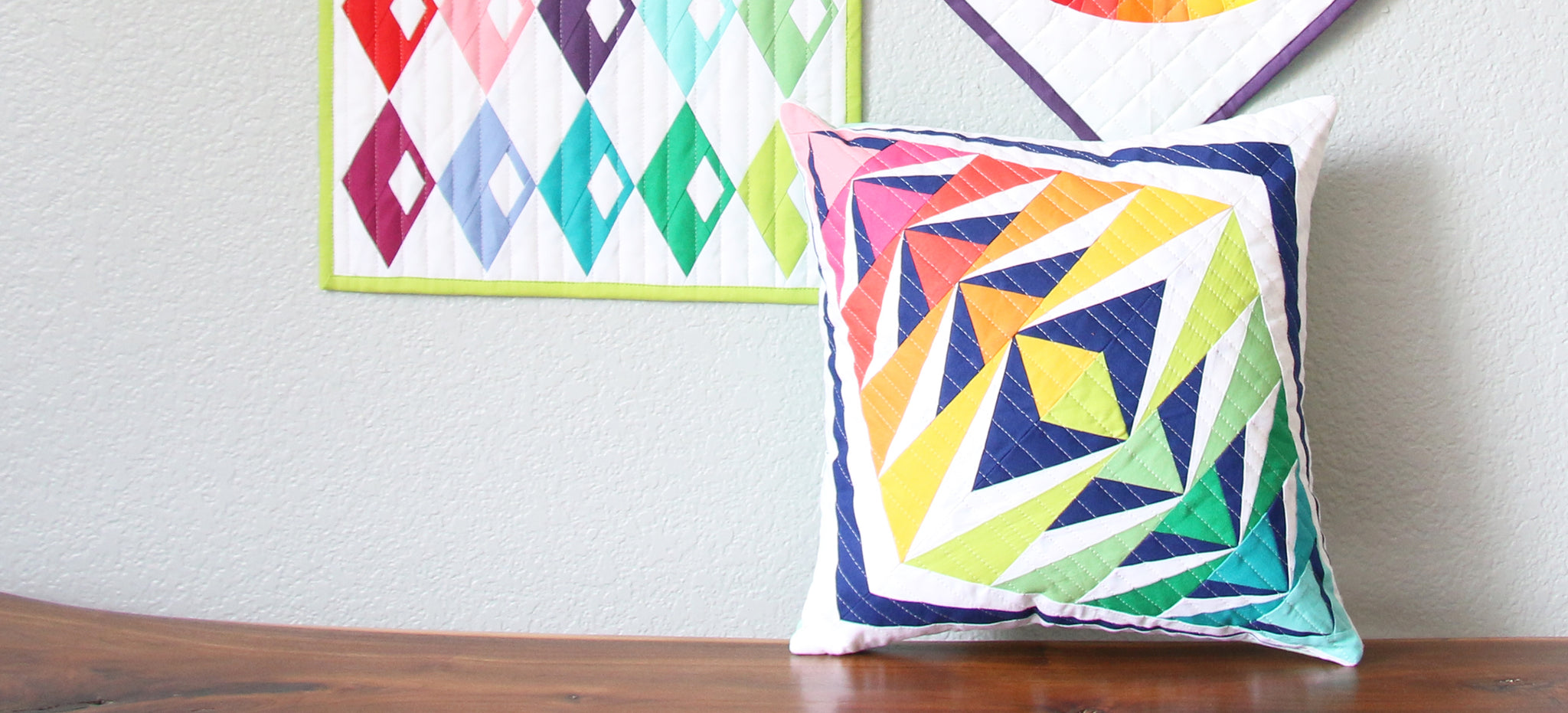 Mini Mondays - "Mini" Empire Place
This week in our Mini Monday Series features our Empire Place quilt pattern.
Yup, you read that right! No, we didn't make all those intricate paper-pieced blocks super small. Instead we picked one block to make into a mini! These blocks are fun to make but some find the idea of the entire quilt daunting. Solution - make one or two blocks as individual projects. The Empire Place book and Foundation Papers will be 20% off today and tomorrow (1/29/18 - 1/30/18 PST). Now let's chat about our "Mini" Empire Place projects! 
How Mini Is This Mini?
We took one block out of the Empire Place quilt pattern and created a one block mini quilt finishing 12" x 12". Some of these blocks have enough pieces to feel like an entire project!
Choosing Fabric
The Empire Place blocks can take on so many different colors, prints and looks! Create a rainbow of Grunge fabrics (that's what we did!), make a black, white and red beauty or feature a fun fabric line! We've created two different projects with two different blocks from Empire Place. Both are rainbow, but each has its own look and personality.
Techniques & Skills
Surprise, surprise. Like it's full size pattern, the "Mini" Empire Place quilt is made with foundation paper-piecing. Don't fret though! The tough part about Empire Place was where all the block seams intersected and with only one block, you avoid all that bulk!
Inspiration Gallery
We only have two samples of this, but something tells me we will have more over time. I am not chomping at the bit make another full Empire Place any time soon, but a couple minis would be great additions to my mini wall or as table toppers!
This block of Empire Place was sewn with assorted Grunge fabrics to create a gradation of color on a black background with a white dot accent!
This mini turned into a pillow! We used assorted solids to create another gradation of color, this time with a white background and navy accent.
Share Your "Mini" Empire Place Project!
We hope this inspires you to take a second look at your Block-of-the-Month patterns and possibly make a "Mini" Empire Place quilt! If you do, be sure to share photos on social media so we can see it. Post them to our Flickr group or use our #sassafraslane hashtag on Instagram!
Stop back next Monday to check out the next Mini Monday post.