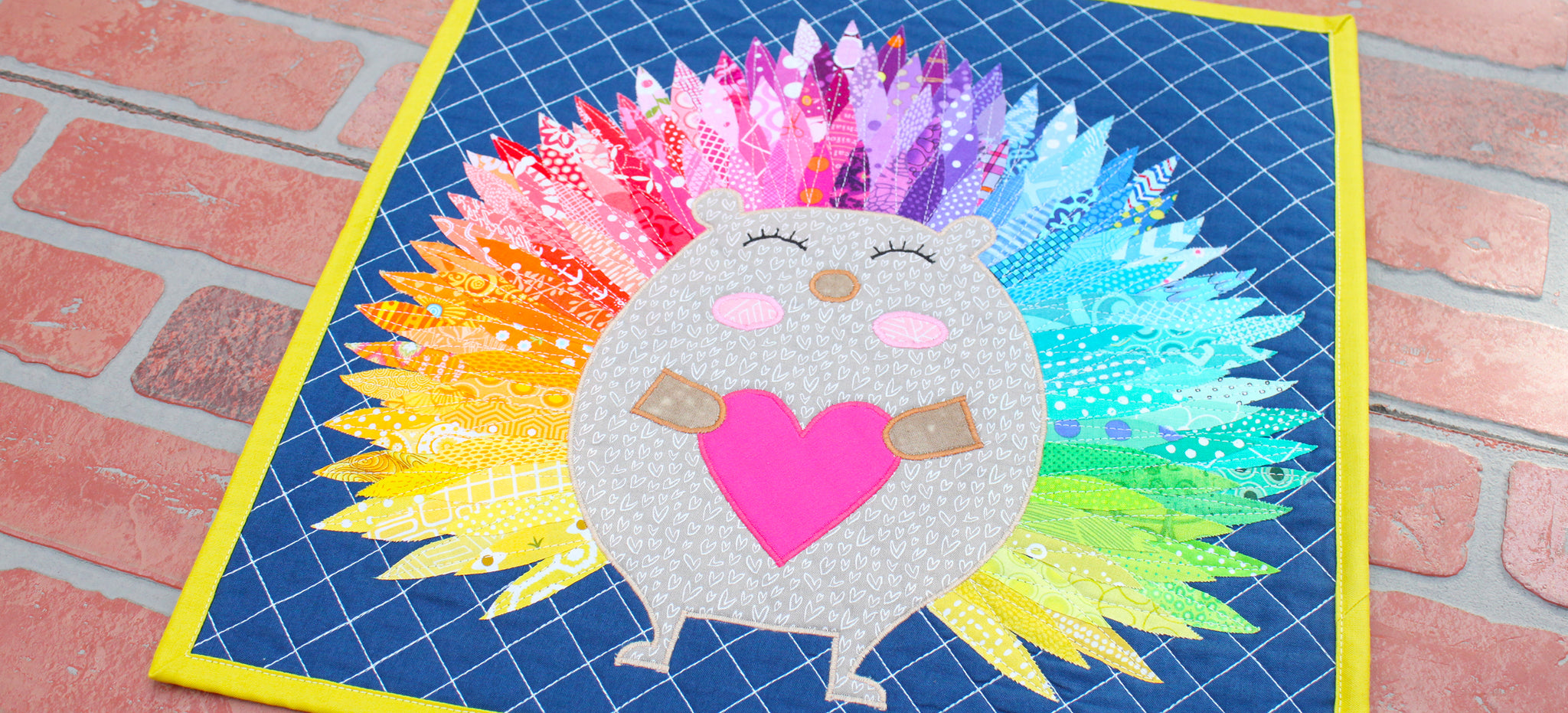 Mini Mondays - Mini Elsie Avenue
This week our Mini Monday Series features our Elsie Avenue quilt pattern.
This isn't an actual mini quilt pattern, but we have a little trick up our sleeve. Instead of miniaturizing the hedgehog from the original Elsie Avenue pattern, we created a couple mini quilts with just one hedgehog. These little guys are so much fun to make and spice up any space! =] The Elsie Avenue pattern will be 20% off today and tomorrow (4/9/18 - 4/10/18 PST). Now let's chat about "Mini" Elsie Avenue! 
How Mini Is This Mini?
You can really make these minis any size you desire. We made them finish as a 16" square because it allowed us enough space to add a good amount of quills and is a standard pillow size (if you wanted to make it a pillow).
Choosing Fabric
We love rainbow (duh!) so both of our samples are made out of scraps arranged to create a spectrum of color around a tan or brown hedgehog body. You could do some more traditional hedgehog quill colors, make it completely scrappy or pick a specific color scheme. Then you will just need some scraps for the heart, nose and blushing cheeks!
Techniques & Skills
This mini Elsie Avenue quilt is all appliqué. Cutting out the quills can take a little bit of time, but bring it with you whenever you think you will be sitting. I have cut out quills at gymnastic meets, on airplanes (just bring TSA approved scissors) and on road trips. Follow the pattern for layering techniques and check out my tip below to make the quill process much quicker!
Quick Tip
Tracing hundreds of quills for appliqué can be a little tedious, so here is what we do - freehand cut them! I used a rotary cutter to cut a bunch of fusible web rectangles that are slightly larger than the quill pattern, fused the rectangles to the backs of the fabric, then freehand cut the quills. They aren't perfect and are a little different, but I think that adds some personality to your hedgehog!
Inspiration Gallery
We only have two samples of these to share here, but we have made at least 6 - they are absolutely addicting! These Mini Elsie Avenues make fun little minis, pillows and gifts!
This first mini hangs on my wall in my sewing room and makes me smile daily. I quilted the background following the grid pattern prior to appliquéing the rainbow scrappy hedgehog down. I love how the bright rainbow pops off of the dark background!
This next mini features my favorite new thing - appliquéing with cork fabric! I am addicted and the natural cork makes an adorable hedgehog body! Also, the background fabric in this one makes me giggle - it says "eat it all" on repeat!
Share Your Mini Elsie Avenue Projects!
We hope this inspires you to dig into your scrap bins and make a "Mini" Elsie Avenue quilt! If you do, be sure to share photos on social media so we can see it. Post them to our Facebook Group or use our #sassafraslane hashtag on Instagram!