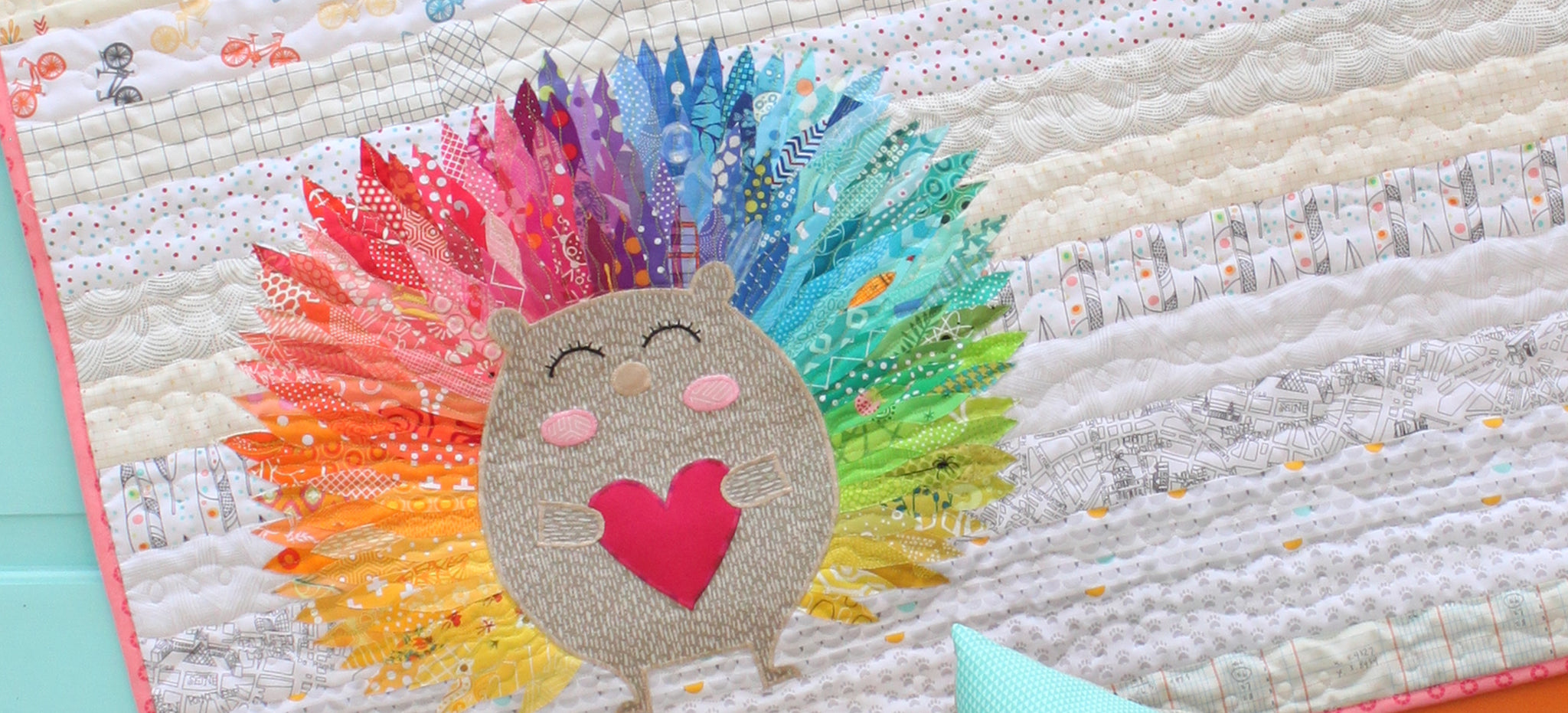 Introducing Elsie Avenue!
A is for Alligator Alley, B is for Bugsy Backpack, C is for Clay Court, D is for Darby Road and E is for Elsie Avenue! This adorable hedgehog is an appliqué quilt and pillow pattern that we can't help but smile when we see it. We hope you love her as much as we do!
Elsie Avenue Pattern Facts
Pattern includes both a quilt (36" x 44") and pillow (18" x 18").
Pattern includes a full-size, reversed hedgehog ready for appliqué.
You will need fusible web to complete this pattern.
Create a colorful hedgehog with bright scrappy quills, or a classic hedgehog with traditional colors.
Pattern is available in

 

PDF and paper form.
Techniques used: appliqué.
Refer to the tip below to speed up the quill making process! 
We named Elsie Avenue after our newest furry family addition, Elsie! She is absolutely adorable, a little prickly sometimes and completely cute, so it seemed like a perfect fit. We snapped one photo of her in front of the quilt and pillow before she was off to chase a falling leaf!
We made our cover Elsie Avenue quilt with a strip-pieced low volume background and a rainbow hedgehog. I dug into my rainbow scraps and made my quills and then arranged them to create a rainbow around a light brown hedgehog. We also made a pillow in more traditional hedgehog colors. We used assorted brown and gold fabrics for the quills and a light brown hedgehog body on a teal background. 
Now to make your lives easier and the Elsie Avenue pattern quicker, here is a little trick! Instead of tracing all 120+ quills, cut your fusible web into rectangles measuring 3/4" x 2-1/2". Then freehand cut your quills so they are generally the same size. This will save you all the tracing time and give your quills a little originality! 
Here is what they look like from the backside before you press the entire hedgehog down to your background. The quills get layered under one another to create the desired effect.
These little hedgehogs are incredibly addictive! I couldn't stop making them! For Quilt Market, we made a few that we scattered around Quilt Market and some are out and about at trunk shows. First up is one made with all Moda Fabrics scraps with a tan body and grey X'd background - too cute!
We made one more Elsie Avenue quilt, this time with a whole cloth background. It is a scrappy rainbow hedgehog on a great alphabetical light grey print. I love text prints and this one makes a perfect background.
Next up is adorable pillow we made up in Rae Ritchie's new Chroma Basics for Dear Stella. This line is full of beautiful rich colors on two prints - a scallop print and a triangle print. We chose a dark background and arranged the quills a little scrappier! Instead of gradating by color, we arranged them from light to dark away from the hedgehog - it gives the hedgehog a glow!
Now it is time for this cutie-patootie! This colorful hedgehog is made up in Kim Schaefer's Brushline fabric line for Andover Fabrics and we love how it turned out. We couldn't decide between a light and dark background, so we did half and half, and it turned out amazing!
And, last but not least is the Elsie Avenue now living amongst my mini quilts on my sewing room wall. This is another scrappy rainbow version whose body is made with a sweet heart print placed on a navy background. I quilted and bound the pillow, so as soon as I pulled the form out, it made an adorable mini quilt! 
The Elsie Avenue pattern is available in PDF and paper. If you make this quilt or any other Sassafras Lane project, we would love to see it! Send us photos, post them to our Flickr group or use our #sassafraslane hashtag on Instagram!
For 48 hours only we are having a little flash sale on Elsie Avenue patterns! Take 25% off the pattern with the code ELSIE25. Sale will be from 7/12 - 7/13 PST.