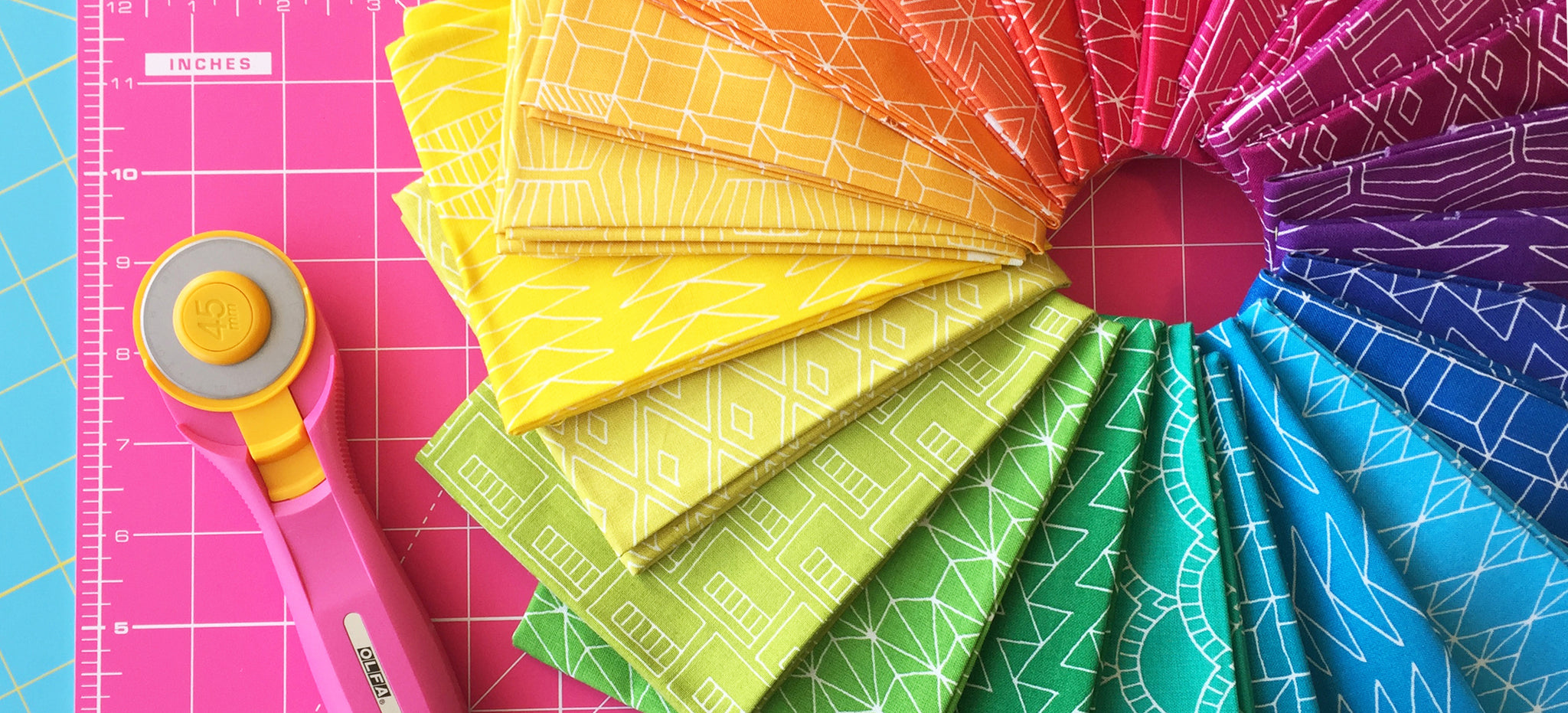 Foundation Fabric Blog Tour Recap
All good things must come to an end and today is that day for the Foundation Fabric Blog Tour. The fabric will be out in stores in March/April, so be sure to look for it and share any projects you make! 
Now, let's recap all the amazingness that happened these last two weeks. Some talented makers really put their all into some amazing projects. I am blown away by all the quilts, bags, pouches, chill pills, placemats, wallets and shelves, all made with Foundation. It was two weeks stuffed full of inspiration! If you weren't able to keep up with all of them, no worries! We are going to quickly recap with links here, so you can go see them all again! It has been a dream come true to see what people will make with my fabric and I hope to keep seeing projects in the near future! All the project photos were taken and belong to the makers.
Giucy Giuce's Hexie-Dresden Pillow
Giuseppe, of Giucy Giuce, kicked off the blog tour with this fun twist on a dresden. The pillow is made with the greys and black prints in curved background pieces and epp hexagons that create a spectrum around the pillow! Check out his IG post to learn more!
Wefty Needle's Hexiecomb Shelves
Tara, of Wefty Needle, created these amazing Hexiecomb shelves for her stop along the blog tour! These hand-sewn shelves are made with 6 different bright prints, cardboard, fabric glue and thread! Want to make some of your own? Grab the pattern and read about it here.
Wild Boho's Fractured Rainbow Pillow
Nichole, of Wild Boho, made this beautiful embroidered rainbow pillow using her Fractured Rainbow pattern. This project is so eye-catching and those stitches are to die for! She will be teaching the pattern next week at QuiltCon. See more photos on her blog!
Robin Ruth's Mariners Compass Placemats
Robin, of Robin Ruth, went above and beyond with these stunning placemats made with her strip-pieced Mariner's Compass technique! She made 9 different versions of these placemats and I don't know about you, but I want them for my table! Check out her blog for more inspiration!
Jessie Stern's Lakeside Pajama Shorts
Jessie, of Jessie Stern Sews, made these adorable pajama shorts for her stop along the blog tour! She used the Wisteria Triangle print for the shorts, the Silver Diamond print for the bias binding and added a little rainbow along the waistband. Read her post to hear all about her process!
Sew Many Creations' Harper Handbags
Jessica, of Sew Many Creations, made a few different projects for her stop along the blog tour! She made two of her Harper Handbags, one with rainbow piecing and black cork and one with the Graphite Triangle print and orange cork. Check out her blog post to also see the amazing quilt she made!
Wolf Creek Quilting's Arcadia Avenue Quilt
My Mom, Kristy of Wolf Creek Quilting (and Sass!), enlarged one of our popular Arcadia Avenue blocks and made a quilt with it! I love how big the block is and how the prints look in the bigger spaces. See close-ups of her amazing longarm quilting.
No Hats in the House's Chill Pills
Sarah, of No Hats in the House, began to make an enlarged Folksy Fish for her project! She ran out of background fabric and whipped up these great wheatgrass and essential oil filled Chill Pills with Foundation. I hope the fish will one day swim =] Check out her IG post to learn more!
Modern Handcraft's Peak Quilt
Nicole, of Modern Handcraft, created a rainbow version of her new Peak quilt pattern for her stop along the blog tour! She created a spectrum diagonally across the quilt and paired a solid white with the bright prints. I love this gorgeous quilt and as always, Nicole's patterns and photos are just perfect. Check out her blog post to get a pattern and see more photos!
Elise and Emelie's EPP Argyle Tote Bag
Elise, of Elise and Emelie, made this stunning tote bag for her Foundation project! She used all the colorful prints and low volumes to create an argyle look on the tote bag with some english paper piecing and hand stitching with embroidery floss. See more photos on her blog!
Knot and Thread Design's Hello Pouches
Kaitlyn, of Knot and Thread Design, made up some of her adorable Hello Pouches for her stop along the Foundation Blog Tour. I love these little pouches and want to make a bunch. Check out the amazing piping detail on there! Head over to her blog to read all about it and get the pattern!
Sariditty's Wallets & QuiltPro Quilt Top
Sarah, of Sariditty, made a few projects for her day! First, she whipped up two of these rainbow Sew Sweetness wallets that are the perfect size for cash, credit card, keys and phone! Next, she used her QuiltPro software to make a beautiful quilt top. Check out her IG to see more!
The Crafty Nomad's Create Every Day Mini
To wrap up the blog tour, Jo, of The Crafty Nomad, made this colorful mini quilt featuring a rainbow spool of thread and the phrase "Create Every Day." This is perfect little reminder mini quilt to add to your sewing room! Grab the pattern and see more photos on her blog!
Win Some Foundation Fabric!
We are doing a little giveaway! We are giving away 5 total prizes and you could be a winner.
4 Prizes - 1 charm pack (5" squares) of Foundation + 2 Sass patterns of your choosing.
Grand Prize - 1 fat-quarter bundle of Foundation + 5 Sass patterns of your choosing.
To win, comment here about what you would make with the fabric and give some kudos to one or more of the makers from the blog tour! Giveaway closes Friday, February 23rd, at Midnight, PST.
Thanks again to everyone who participated and followed along! I can't wait for this fabric to be out in the wild this March & April!