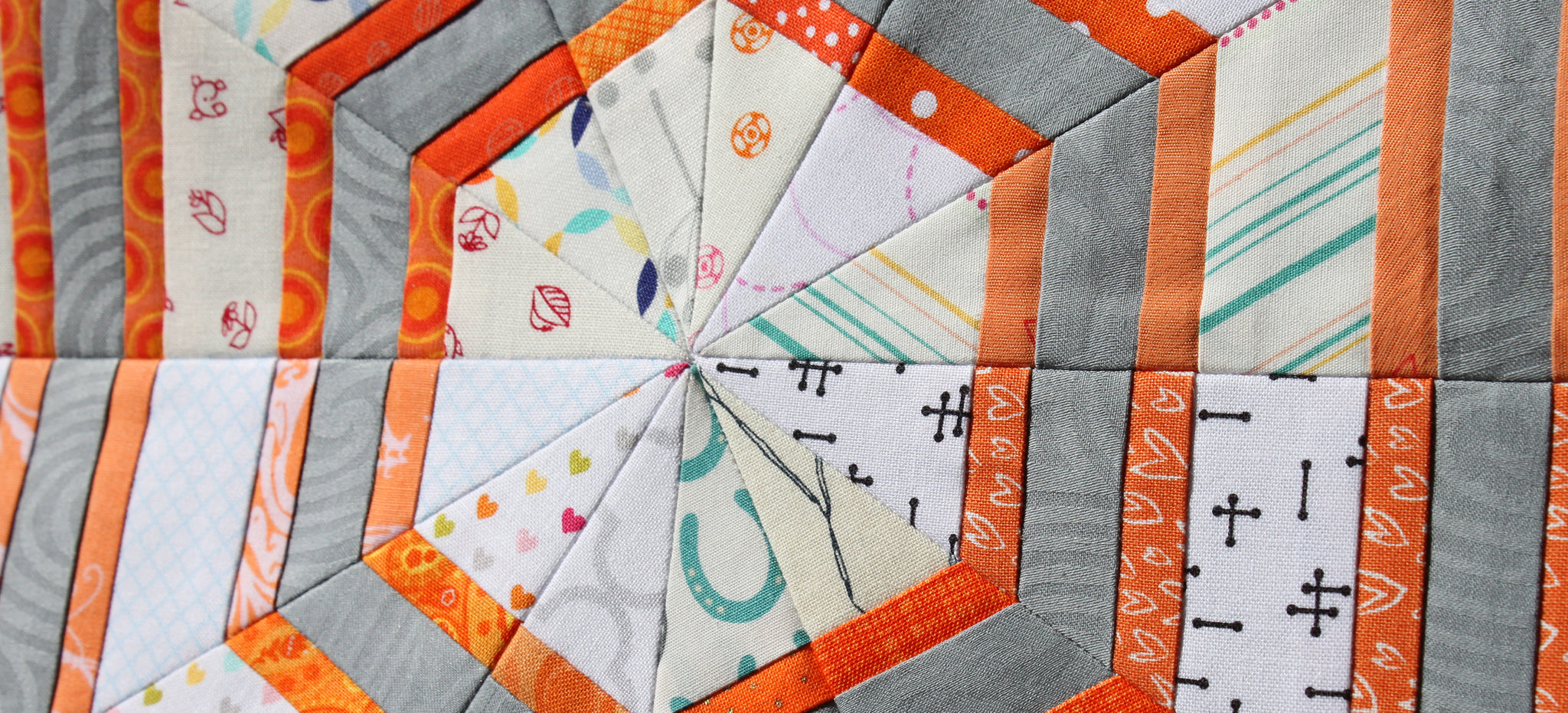 Arcadia Avenue - Spiderweb (block 4)
Welcome to post 6 of the Arcadia Avenue QAL! Today we are sharing our Spiderweb blocks! This block has a secondary hexagon that goes in an opposite direction of the block. Our weather has warmed up so we finally took some photos outside!
Shayla's Block:
Block 4 means orange! My favorite =] I placed my 12 low volume fabrics where the colors go, my 12 oranges where the medium fabric goes and my grey tone-on-tone where the light fabric is placed. I didn't do a ton of fussy-cutting for this block, but one wedge does have fussy-cut horseshoes! 
Kristy's Block:
For my batik Spiderweb block, I used just one pink where the light would have been, I then used the light in place of the medium. Each wedge has a different teal or turquoise fabric, no purple this time - I think this is my favorite batik block so far!!
Shared Block:
This version of block five is one of my favorites! And its orange =] We kept the light and medium fabrics in the same place and used five different oranges, one in each color spot in each wedge - this makes the same orange go around the block, instead of each wedge being different! - I really love this one!!
Here are a few different design options for block 4.
Changing Values - Swap the light and dark fabric every other wedge to create a fun effect!
Radiating - Try radiating color out from the center and make each wedge with the same colors.
Changing Values - Use light fabrics for the colors and put the colors where the medium fabric goes for a subtle block.
Optical Illusion - Make all the A and B foundations opposites with only two different contrasting colors to create an interesting illusion! 
And last but not least, we picked another winner for a small little prize! We chose Jennifer Eubank for sharing this photo of her Northern Lights block in our Flickr group.
Now your turn! We want to see how your blocks turn out! We have started a Flickr group so you can add your photos there! We will pick another winner for a small giveaway from everyone who participates.
First time here? No problem! Join in the fun. Grab a book here, read up on the previous posts here and begin when it works for you! Be sure to use the #ArcadiaAvenueQAL hashtag on Instagram and Twitter too! Thanks for stopping by!