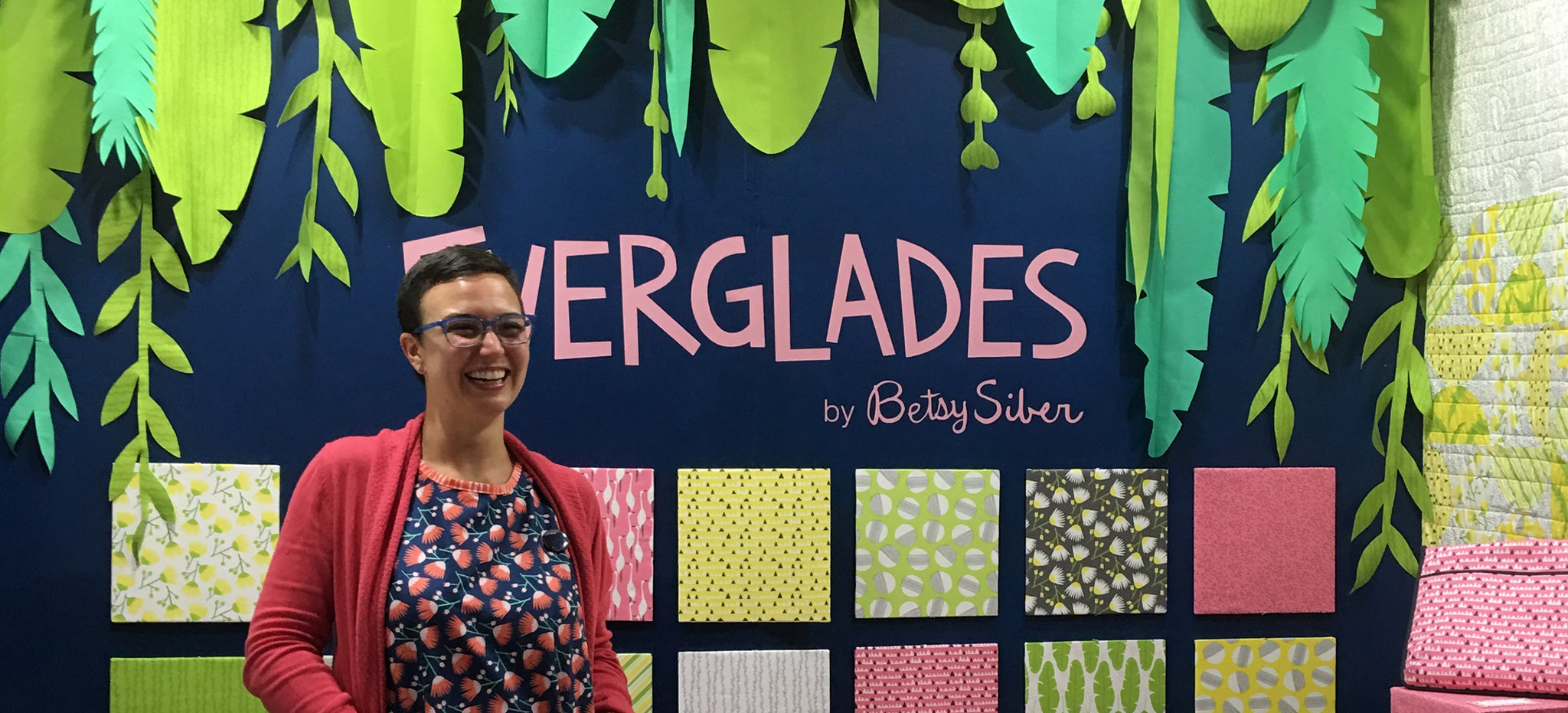 Quilt Market 2017 Recap - Favorite Finds
I love the quilting industry! The main reason being the people. There are so many talented, sweet, funny and creative people and I love interacting with them and seeing their creations every 6 months at Quilt Market. Here are some of my favorite booths, creative endeavors and people from around the tradeshow!
Juliet of Tartankiwi was there promoting her new super awesome book, Animal Quilts. She stopped by the booth to say hello toting a super cute bag with a paper-pieced howling wolf on it!
Jessica from Sew Many Creations is one of all time favorite people! Our sass lines up perfectly and we always have a good time. Here she is modeling her super soft rug for us! There are always some shenanigans at Quilt Market, and it usually involves this girl =]
Jessica got some sample yardage of Foundation early and made a couple of her new patterns with it! Left: Harper Handbag and Right: Hopscotch.
We spotted a bundle of Betsy Siber's debut fabric line Everglades through Michael Miller Fabrics at Sample Spree, then had to hunt her booth down! We fell in love with it and her! I can't wait to see what she illustrates next.
Alison Glass never disappoints and this Market was no different! Her booth was decorated with fabric and paper swatches hanging ornamentally from the walls with a cute seating area in the middle.
This pillow caught my attention on a quick walk back from the restroom. It made me smile so I snapped a quick picture. I failed to record the maker, so if you know, please let me know!
Some exciting news that I will share more about later - I put together a thread bundle through Aurifil to coordinate with Foundation. It was so much fun seeing it on the shelves next to some other great bundles!
It took me about two seconds to completely fall in love with Flying Parrot Quilts! The designer, Sylvia Schaefer, is a scientist/quilter and her designs are super adorable with a science kick.
I had the pleasure of meeting the talented Heather Ross this Market. She had two fabric lines to promote, Kinder and Sugarplum, and her booth was adorable! Heather also has a new book out, Boys, that contains all her dating advice for her daughter.
Carolyn Friedlander has been a favorite designer of mine since her debut line. Her newest fabric line, Gleaned, is great and I could move into booth without thinking twice!
Lorna of Sew Fresh Quilts is one of those people you immediately know you could enjoy a beer with! Her patchwork animal designs are absolutely adorable and refreshing. I am pretty sure I need those hamsters in the bottom right corner!
Mark to Mark by Malka Dubrawsky for Robert Kaufman caught my eye. I love the bold colors and designs. It is a line I will definitely have to add to my stash!
Another crew we enjoy seeing every Quilt Market is the lovely ladies of Sew Kind of Wonderful! These ladies are absolute sweet hearts and are always doing something amazing with curves. I am in love with their new cactus pattern!
This large wolf face caught our attention from down the row! This amazing appliqué wolf was hanging over in the Northcott booth and we couldn't resist a picture of 3 wolves.
Jessica Swift is an artist I have been admiring via social media for awhile, so when I stumbled into her mini booth at Art Gallery Fabrics, I was thrilled! The bright colorful prints of Tallinn combined with the simple projects looked amazing.
A booth I always love to see is Jen Kingwell's. Her amazing use of prints is something I admire and strive for. That rainbow half-square triangle quilt in the corner gives me heart eyes!
There is always one Belle of the ball and this year it was Tula Pink's All Stars collection. She revitalized 6 of her best selling prints and mixed them with some great new stripes and dots!
These girls definitely would have won the cutest costume award if there was one. Most of the Wonderfil Specialty Threads girls dressed up as sushi and I hear there was a rumored sushi chef around too!
Violet Craft always has something new I am dying to see! This Market it was her Palm Canyon fabric line and new amazing Desert Mirage quilt pattern.
I was really looking forward to seeing Anna Maria Horner this Market, but we always seemed to miss her! My mom and I both tried out some of her clothing patterns for this Marker. We will show you them in the next post!  
The patchwork elephant in this Indie Folk booth is absolutely amazing! I love Art Gallery Fabrics' booths. They are always so meticulously thought out down to every detail and decoration.
Here I am sitting in deep thought on this city bench outside the RJR Fabrics booth. They used their fabrics to create this amazing cityscape for photo ops! 
Sadly Amy Butler didn't make it to Quilt Market this year due to her dad passing away, but her new fabric line, Night Music, was well represented. This amazing quilt is Blossom by the talented Robin of Robin Ruth Design.
Aardvark Quilts is another one of my favorites time after time! Pam Goecke Dinndorf has an amazing way with color and her second line, Psychedelia, is psychedelic!
Colourwerx is another booth you can always find a good rainbow quilt in! That fact and their adorable designs always warrant a visit from us. This time those adorable Mod Dogs became a fast favorite!
Have you seen our last two Quilt Market posts? Check out the post about our booths and the post about the assorted Sass projects. More posts coming soon!