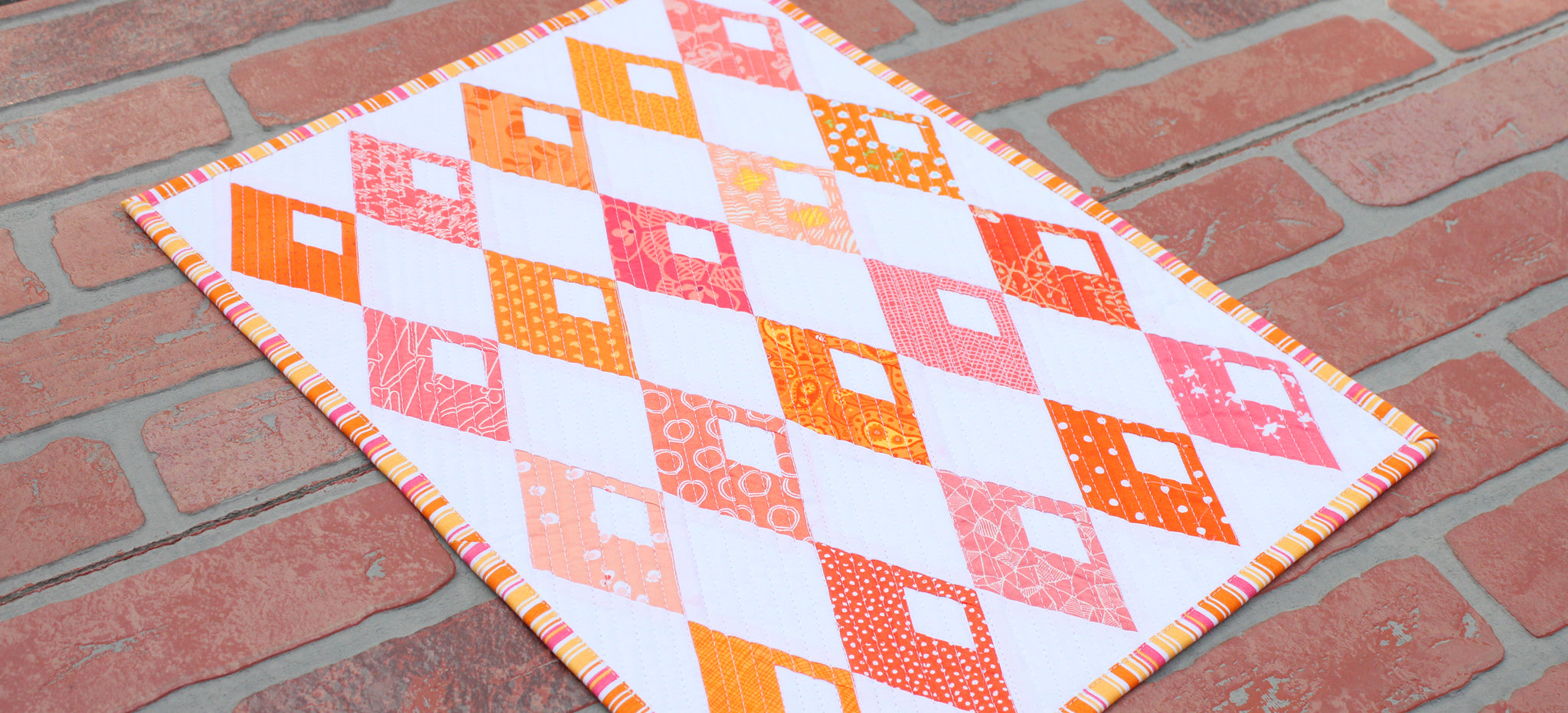 Mini Mondays - Mini Diamond Detour
This week in our Mini Monday Series is our Mini Diamond Detour pattern.
Mini Diamond Detour is the miniature version of our popular Diamond Detour quilt pattern. Love simple construction that creates complicated looking results? This may be the project for you! Both patterns will be 20% off today and tomorrow (1/22/18 - 1/23/18 PST). Now let's chat about Mini Diamond Detour! 
How Mini Is This Mini?
We modeled this mini pattern after the "tall" size of the original Diamond Detour quilt pattern. Mini Diamond Detour features 20 pieced diamond blocks and finishes at approximately 12.5" x 17.5".
Choosing Fabric
The Mini Diamond Detour quilt pattern calls for 20 focus fabrics and a background. This is a great project to explore color combinations, feature a fabric line or use your tried and true matches. Each of the 20 diamond fabrics should have some contrast with the background. I think this would be a fun project to throw a little something different in the centers of the diamond blocks if you are feeling so inclined.
Techniques & Skills
Like the Diamond Detour pattern, Mini Diamond Detour keeps things simple. Log cabin style patchwork is used to create the pieced blocks, so that is super easy! You will have to cut and sew with 60° triangles and angles, so we recommend using a little starch to avoid unwanted stretching while sewing and handling.
Inspiration Gallery
This may be one of my favorite projects to make for friends, family and gift exchange getters! That being said, we do have a few different ones to show you! One of them features diamonds with fun centers. Keep scrolling to check it out!
The cover quilt is modeled after the cover quilt for its big buddy. The quilt features 20 different orange, coral and pink prints on a solid white background.
After orange, aqua is up on favorite colors list, so we picked out 20 different aqua prints for this version. It is bright and cheery!
This mini quilt features diamonds made of assorted solids and arranged to gradate by color through the quilt, starting in the upper left corner.
This version was made with Dear Stella prints. The pieced diamonds are made with a fun plus print and have contrasting centers made with a hatched print.
Share Your Mini Diamond Detour Quilt!
We hope this inspires you to create a Mini Diamond Detour for yourself or close friend! If you do, be sure to share photos on social media so we can see it. Post them to our Flickr group or use our #sassafraslane hashtag on Instagram!
Stop back next Monday to check out the next Mini Monday post.